Presents and Toys for Young Children

You may think buying gifts for a child with blindness or low vision can be challenging. However, whether it is for your own child, granddaughter, cousin, niece, or nephew, there are many fun and accessible gift options for children with blindness or low vision that you may have yet to discover.
Choosing a Toy
When choosing a toy for a child with an eye condition, search beyond the physical appearance of the toy. Since looks aren't the most significant factor for children who are blind or have low vision, focus on toys with a multi-sensory appeal. For example, try bright and colorful toys that make noise and have different textures, which would appeal to three out of the child's five senses.
Children are not identical and they don't always like the same toys; children with blindness or low vision are no different. Thankfully, there is a large variety of fun toys all kids can choose from, including those specifically designed for children with blindness or low vision.
Not only are there toys created for children with eye conditions, but there are also countless toys that have been modified for children with a disability. For instance, the tactile chess and checkerboard set, braille Go Fish cards, and a beeping foam soccer ball are all modifications of classic toys.
Presents and Toys for the Early Years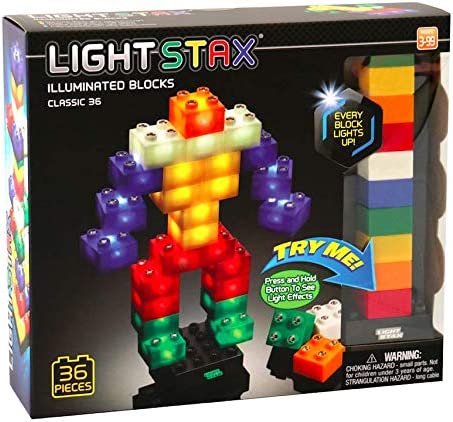 Light Stax is an innovative, award-winning toy. These beautifully illuminated construction blocks use LED technology but are still compatible with traditional building blocks. Each block magically glows as it is connected to a power base or any lit block. Just stack them and they light up! A great choice for children with cortical visual impairment.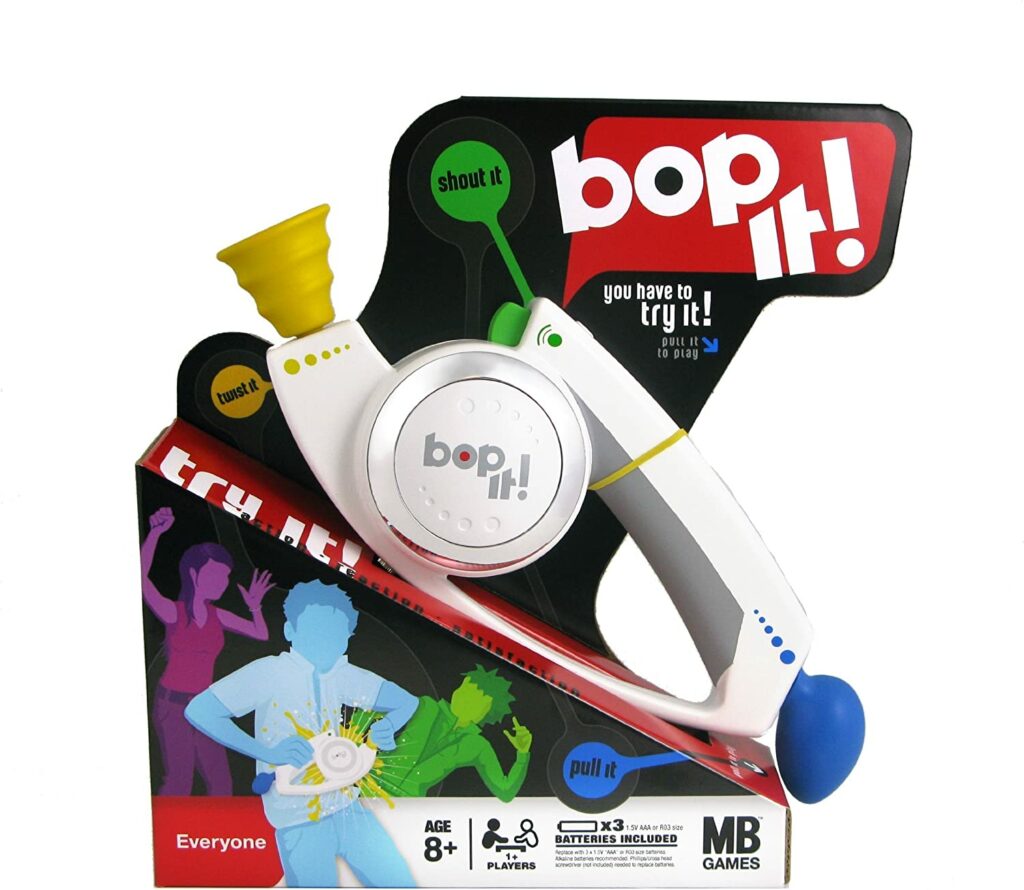 The Bop It! is a favorite. The Bop It! calls out commands that come faster and faster as the game goes on. When you hear a command, you need to "bop it, pull it, or twist it to stay in the game."
The Go Fish! matching card game, for 2-4 players ages 4 and up, utilizes large, easy-to-handle flash cards – jumbo size 4.75 x 3.25 inches. The set includes 32 playing cards, instruction cards, and a cardboard storage tray. The Braille Superstore also carries a variety of other games making family game night accessible for all.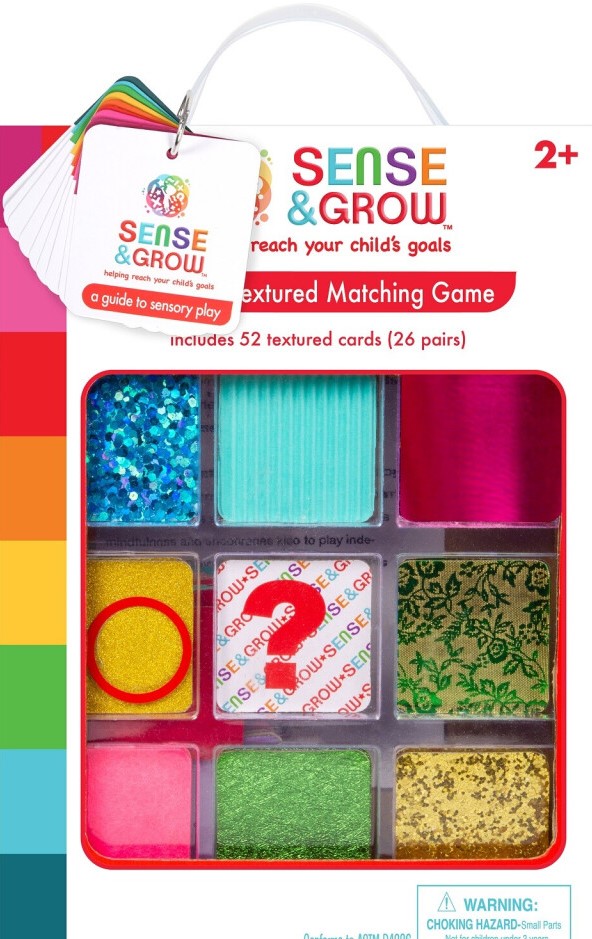 Sensory Memory Matching Game: Enjoy this sensory toy on your own or have friends join in on the fun! Turn the cards upside down to begin the game. Each player gets a turn to flip two cards over to try and get a match. The player with the most matches at the end of the game wins! Touch enables children to get an understanding for what objects are and what they feel like by experiencing various shapes and textures. Let your hands inspect the different feel of each sensory card. Follow along in the activity guide for ideas of how to get the most use out of this product. Creative play has never been this easy or mess-free!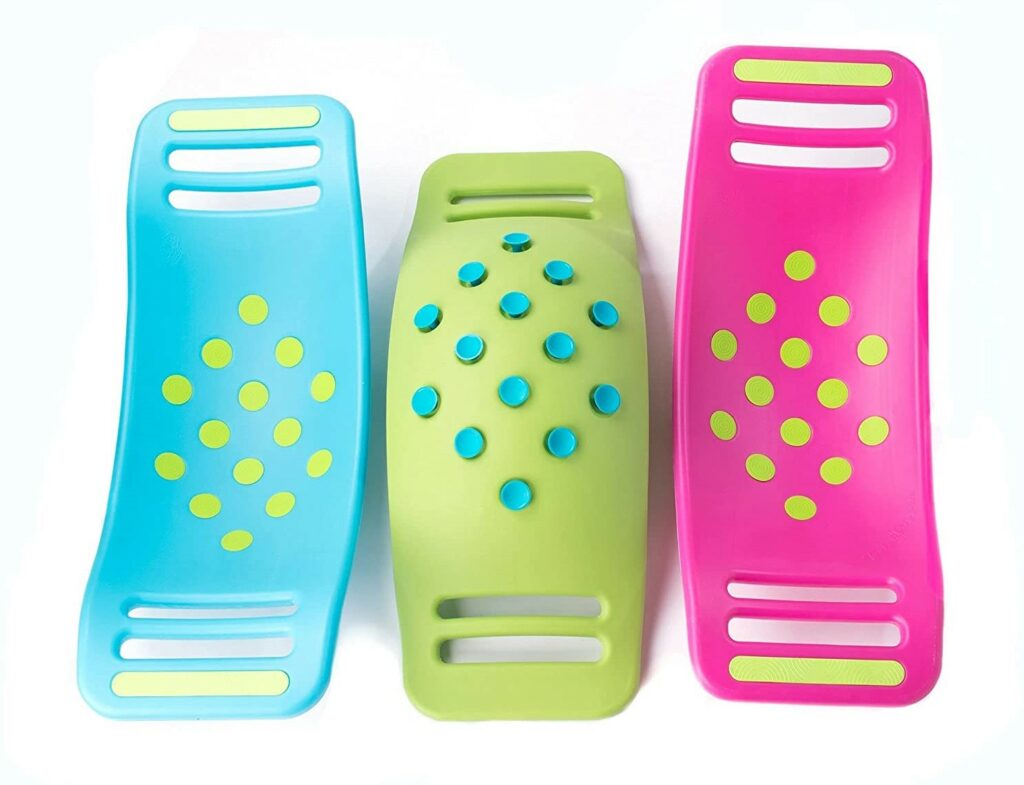 Teeter Popper: Do your kids enjoy the sound and satisfying pops of bubble wrap? It's a curved plastic board lined with suction cups on the bottom that make a fun popping sound as you wiggle and rock back and forth. It's such a unique toy and so much fun for kids who are blind or have low vision as they get sound effects from moving the board on a smooth, flat surface. The Teeter Popper would be so much fun for a child with light perception to enjoy in a dark room with a black light. The board is great for physical therapy sessions, sensory integration, and would be a good fit in any child's playroom.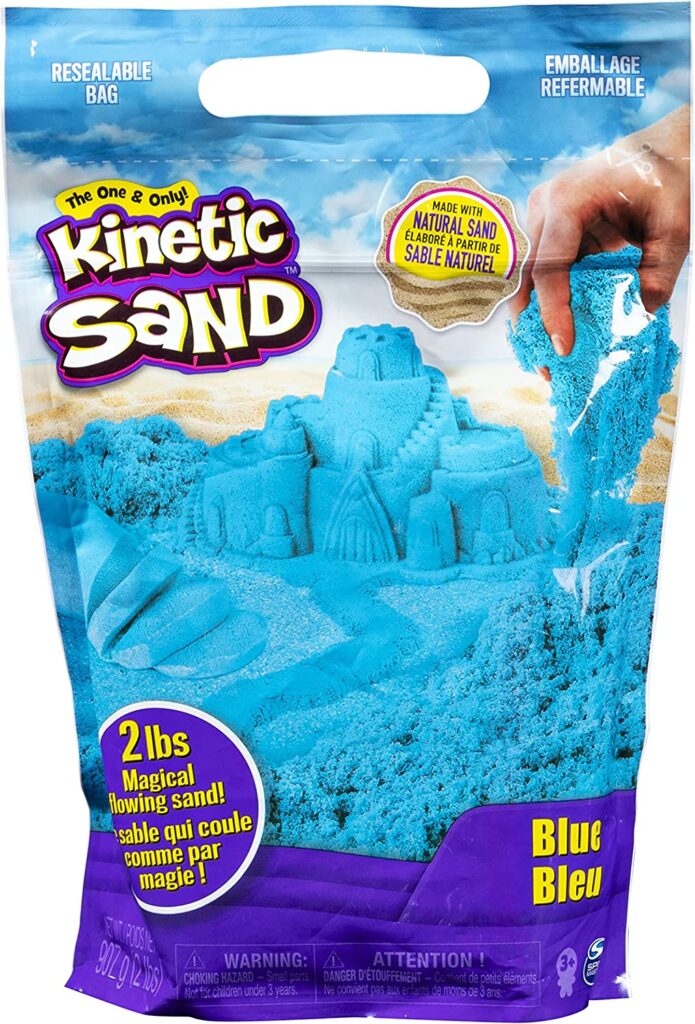 Kinetic Sand: Kinetic sand is a great sensory play material that just begs to be touched and manipulated. It's not your regular beach sand either! This sand can be molded, pulled, and squeezed. The best part is that it sticks to itself and not to your hands making it more appealing to kids with messy play aversions.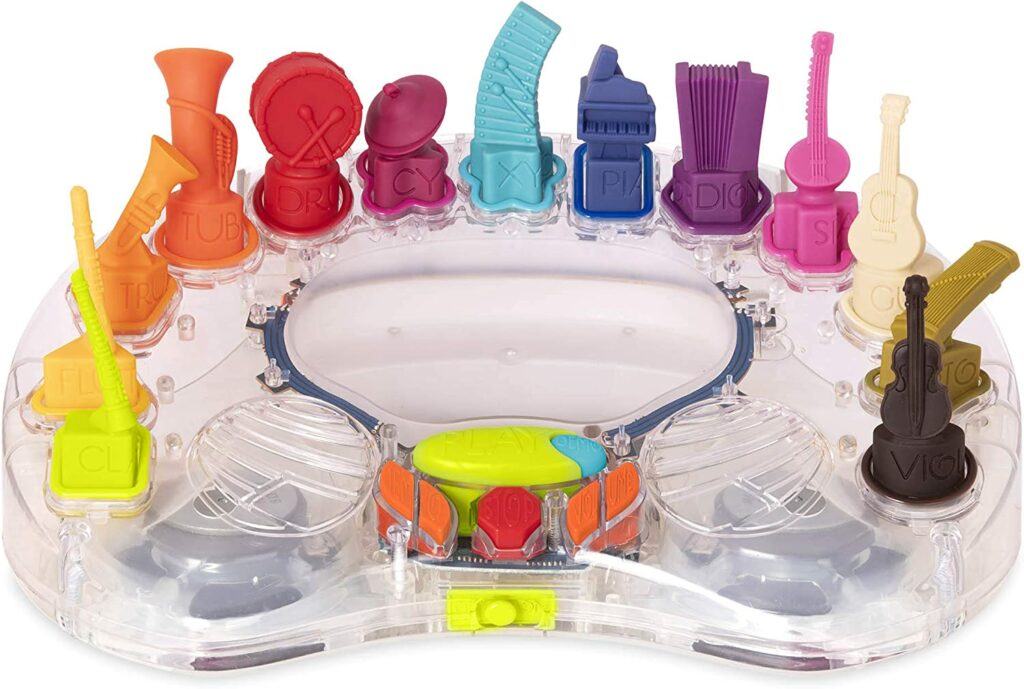 Toy Orchestra: Become a MUSIC MAESTRO! You're the conductor! Choose your instruments, put them in the orchestra pit, and hear them play. You create your very own symphony. Change up the instruments (while the song plays) for a musical transformation. It comes with 13 toy instruments with professionally recorded sounds! You can add sounds from drums, a piano, guitar, violin, sitar, tuba, guitar, accordion, cymbals, clarinet, flute, trumpet or xylophone, and there are 15 melodies to choose from! Go from Beethoven to Mozart to Twinkle Twinkle Little Star! This musical toy orchestra is full of surprises. Your child can learn about shapes and colors! Each toy musical instrument has its own shaped base that corresponds to its proper place on the podium. The Toy Orchestra contributes to a rich sensory environment. You can store all 13 instruments directly in the toy orchestra. It comes with a booklet of all the songs, lyrics, and the composers and with 6 x AA batteries. Everything fits inside.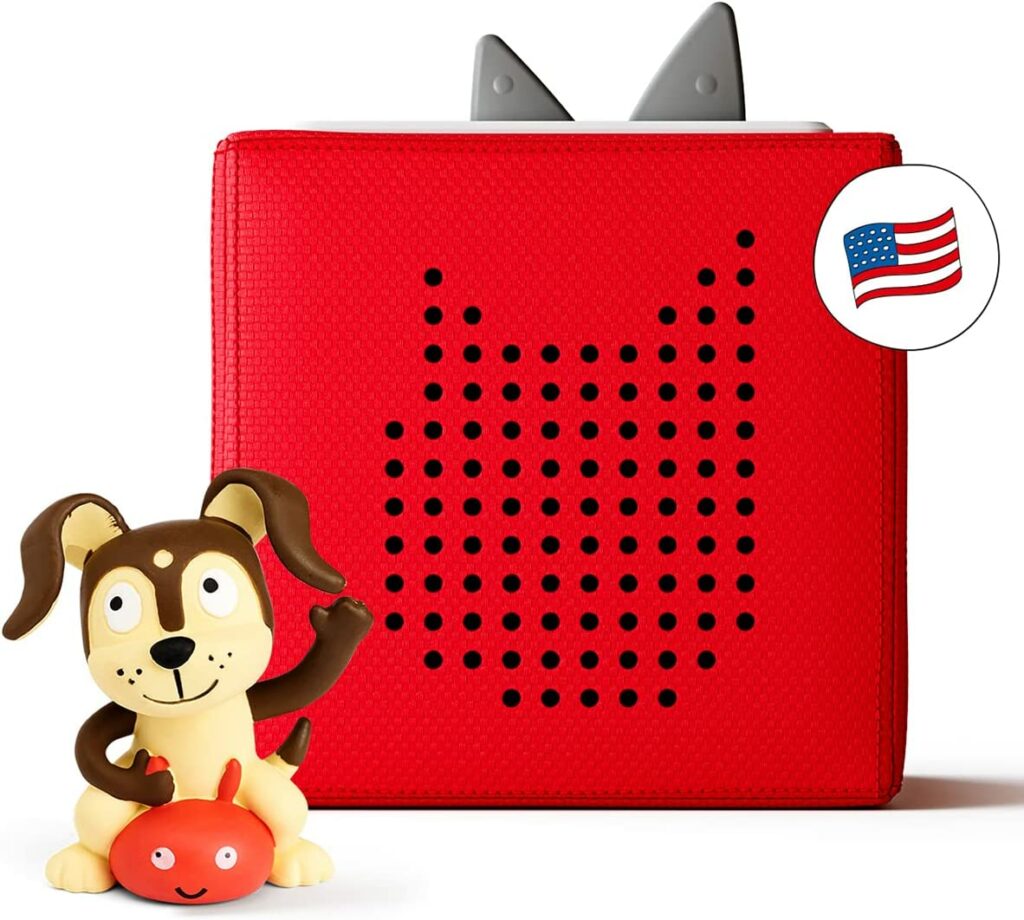 Toniebox: This audio player starter kit features content, stories, and songs from an ever-growing collection of modern favorites and timeless classics. Swapping stories is as simple as changing the Tonie on your Toniebox. With partners like Disney, DreamWorks, GoNoodle, and Sesame Workshop, it's a collection filled with variety. The Tonies library of content features stories and songs while also focusing on educational lessons, mindfulness exercises, assisting naptime and routines, and making your own content with Creative-Tonies.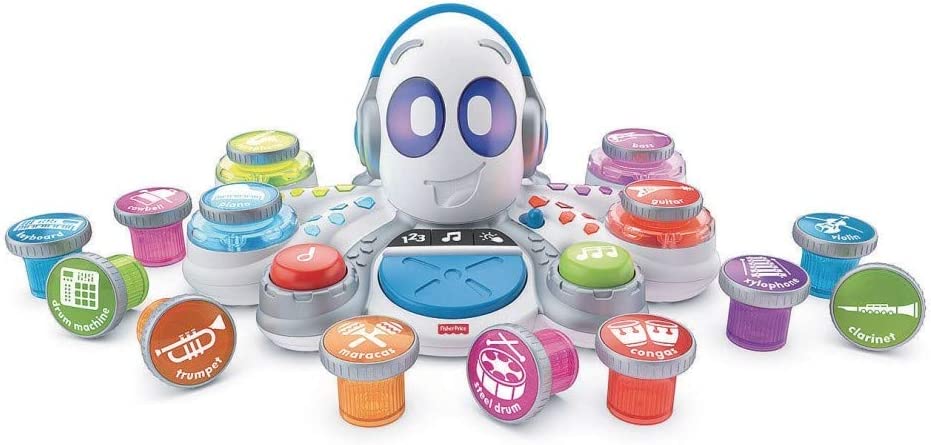 Rocktopus: 15 musical instruments, 5 musical styles, 3 ways to play—1 rocking toy! It has three play modes: math, music, and game. Rocktopus responds to every musical instrument as kids insert or tap them, helping guide them through gameplay. Kids are in control of their musical creations! Add or subtract instruments, control the tempo, and add sound effects.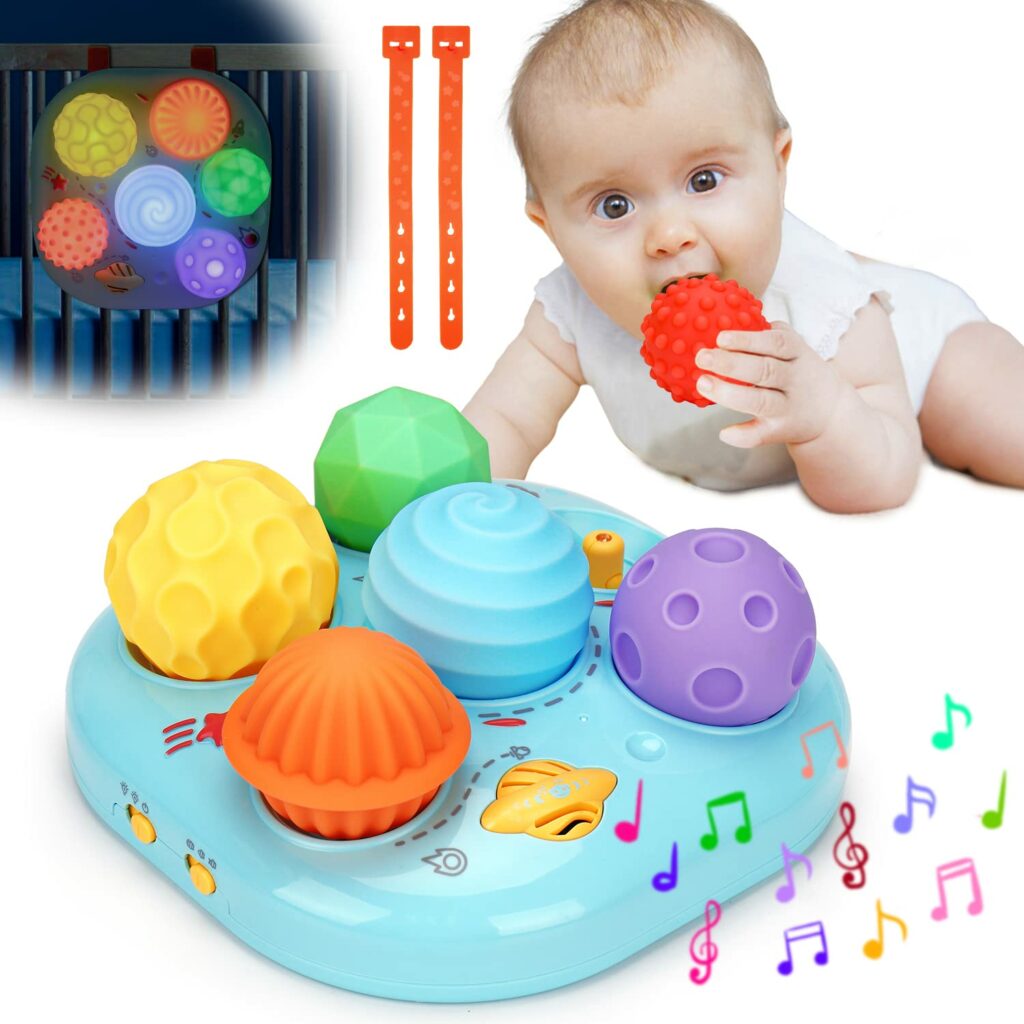 Baby Ball Sensory Tactile Sleep Aid: This baby soother toy comes with six colorful softballs, cultivating color recognition and sensory tactile engagement. Placing a softball into the designated hole triggers light and sound, which will develop fine motor skills and hand-eye coordination. When matching balls to different holes, the songs changed, which easily attracts the baby's attention. The toy lights up from bright to dim, and the light is gentle, which will protect baby's eyes. The toy is a great baby sleep aid and/or a tummy time toy.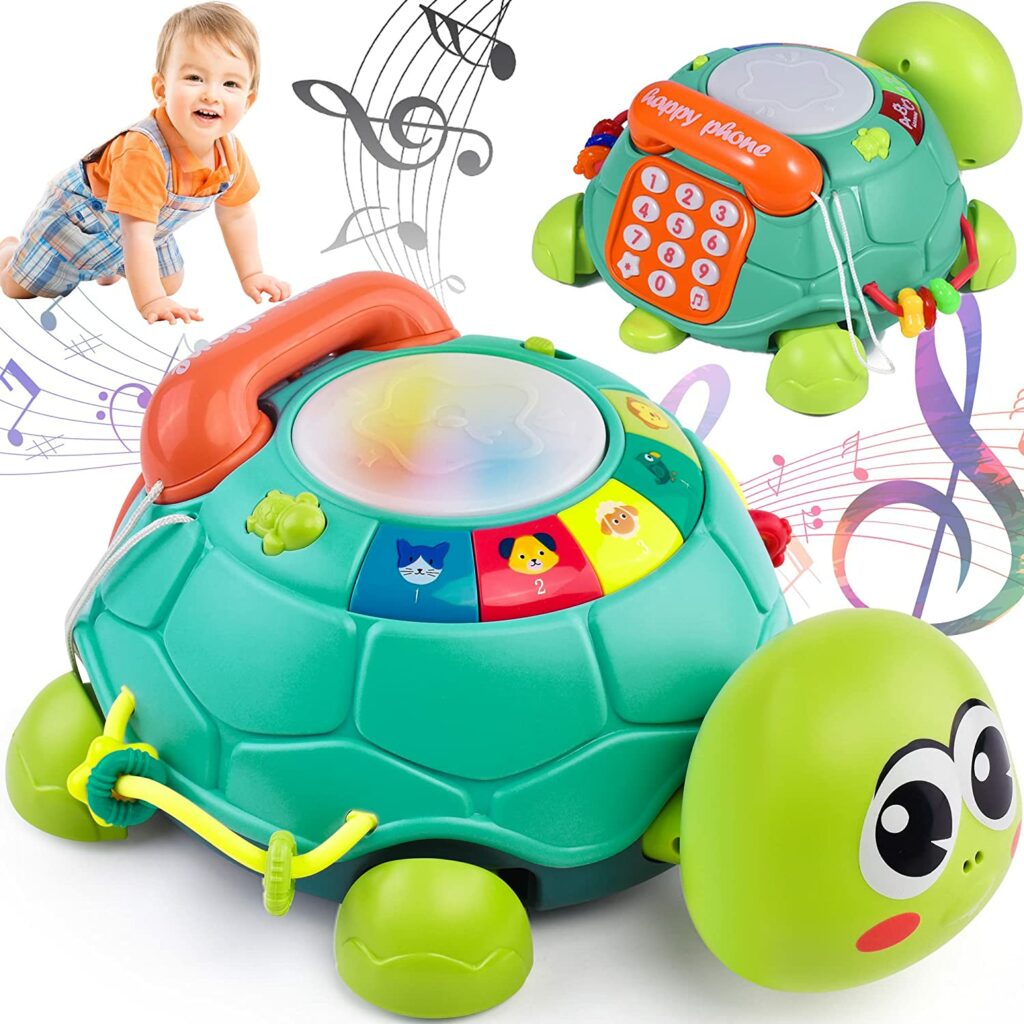 Musical Crawling Turtle: Press the little tortoise button and it will move, nod its head, and play songs and music with LED light! It will attract your baby to chase and crawl. Perfect for babies to develop gross motor skills and learn how to control large muscles which enable walking and body balance when playing. On both sides of the turtle, the toy is specially designed with rotating beads to practice finger dexterity. Delightful songs and soft light can help the baby fall to asleep.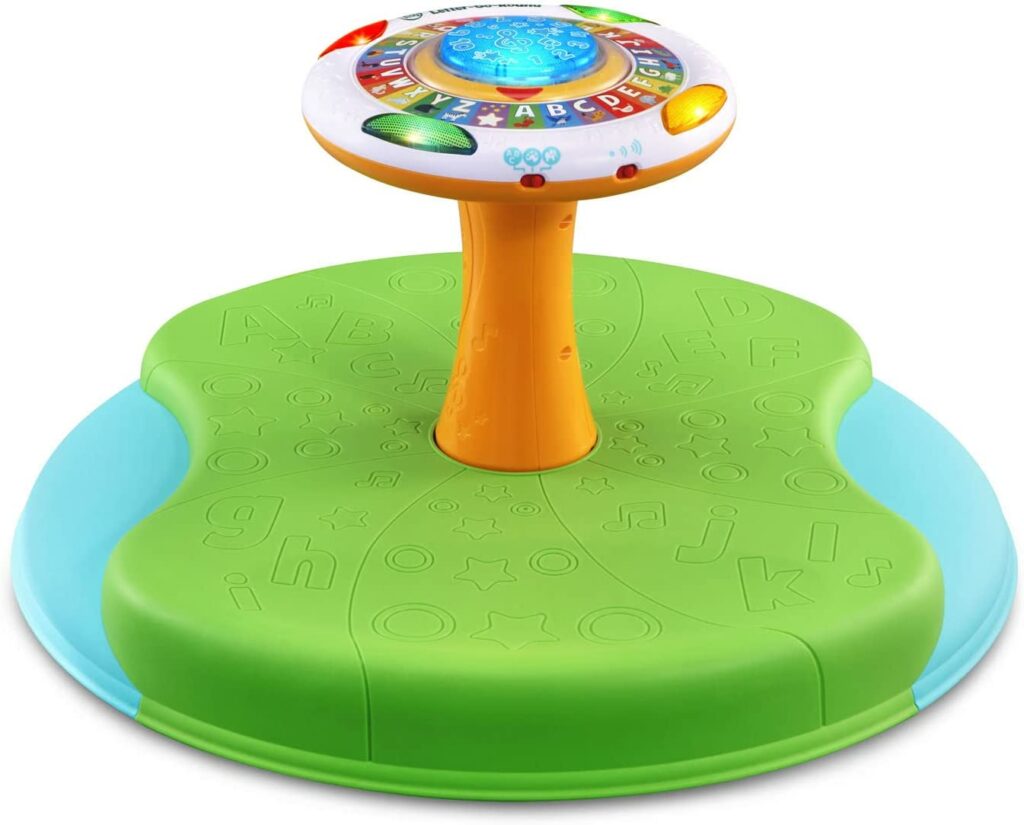 LeapFrog Letter-Go-Round: Spin around the wheel to build motor skills while lights flash and music plays. Each spin will land on a letter of the alphabet, introduce the letter sound, and name an animal that starts with that letter. Tap on the top to drum for more learning fun.
Bounce and Spin Puppy: Featuring a sturdy base, easy-grip handles, interactive buttons, and multicolor lights, this stationary ride-on dog plays songs, sounds, and educational phrases as your baby bounces up and down or spins all around! As your baby bounces or presses the buttons, playful songs and phrases, the toy introduces the alphabet, numbers, colors, and more! Climbing up on the puppy and bouncing up and down helps strengthen your baby's balance and coordination skills.
Sensory Bin Gifts
As a holiday gift, consider creating one or more sensory bins. When children are blind or low vision, you'll want to engage the child's other senses. Playing and exploring through the other senses can be a little less inviting, or even a little scary for a child who is blind or has low vision. Children with blindness or low vision sometimes need a little extra encouragement to engage other senses to learn those foundational skills for activity engagement. Sensory bins offer a great way to encourage multi-sensory play with so many possibilities for lots of learning opportunities!
*Be aware, children put things in their mouths; this will need close supervision, especially with some of the non-food items mentioned below.*
You'll need:
Plastic dish pan
Rice Krispies
Spray bottle with water
Small plastic animals, bugs and/or windup toys
Plastic shovel (optional)
Fill dish pan about 1/2 full with Rice Krispies. Hide small plastic animals, bugs or windup toys in the cereal. Allow children to spray Rice Krispie treats to hear the 'snap, crackle and pop', and then dig (using the shovel) for the hidden toys!
Alternatives:
Use coffee beans instead of cereal to dig for treasure and to play 'coffee shop'. This would add the sensory experience of smell to the activity (spray bottle not needed).
Fill the dish pan with beans, rice, pom poms, rocks, sand or any variety of textures to gain different sensory experiences.
Use brightly colored fruit loops for kids with low vision.
Use different utensils for 'digging' including tongs, kitchen utensils, and brushes.