Beyond Braillewriter Mechanics: Guidelines for Teaching Writing
An excerpt from the AFB Press book, Beginning with Braille: Firsthand Experiences with a Balanced Approach to Literacy, Second Edition, by Anna M. Swenson.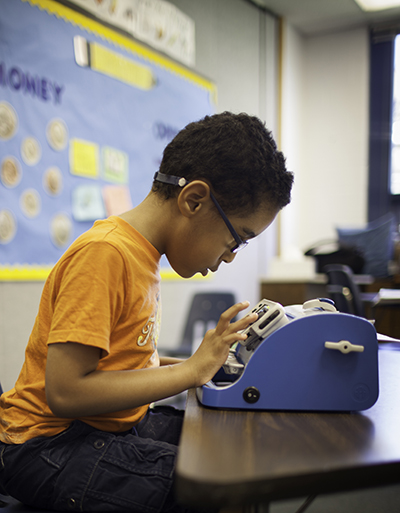 Despite its importance, writing does not always receive as much attention as reading and math in general education classes. At times, itinerant or resource room teachers of students who are blind or visually impaired may choose to supplement classroom writing instruction with an authentic writing activity, such as a thank-you note or a student-authored book; they may also spend a little more one-on-one time helping children learn from what they have written.
Teachers of self-contained classes can structure their language arts block to include daily writing instruction. Regardless of the setting, teachers can ensure that writing instruction goes beyond the simple mechanics of operating a brailler by considering the following guidelines:
Plan writing activities that are motivating to children and have a purpose. Encourage them to write about what is important to them. Provide opportunities for sharing writing with classmates, other children, and families.
Become familiar with the stages of children's writing. Assess students' work regularly and collaborate with the classroom teacher on strategies to move the student to the next level. Look for the positive, prioritize needs, and provide carefully selected feedback to avoid overwhelming the student.
Understand that "effective writing instruction is a scaffolded collaboration between teachers and students" (Zumbrunn & Krause). Provide plenty of support when students tackle a new writing skill and gradually transfer responsibility to them as their skills improve. Independence is the goal.
Let children see that you, too, are a writer. Talk about what you have written, share some of your writing, and model writing for students.
Most important: Always respond first to the child's written message, not the mechanics, sentence structure, or grammar. Other aspects of writing are important, but they become a focus only after the author's message has been acknowledged. To put it another way, "Don't let the mechanics of writing or brailling 'wag the dog'" (Wright & Stratton).
For more information about teaching the beginning writer, read Beginning with Braille: Firsthand Experiences with a Balanced Approach to Literacy, Second Edition, available in the AFB Store at aphcareerconnect.org/store.