Fun Activities for Teaching Magnifier Use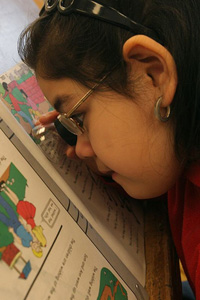 Magnification devices can assist students with low vision by increasing their access to print and non-print classroom activities. The beauty of a magnifier is that it is inexpensive, small, portable, and easily obtainable. Training programs, which include exposure to magnifiers, give the student the opportunity to find the best way to access a variety of print and non-print materials.
Magnifiers can help children with visual impairments explore their world. Here are some fun activities for teaching hand magnifier use from the book Looking to Learn: Promoting Literacy for Students with Low Vision.
Rock Hunt: Go for walks to pick up rocks. Use the magnifier to examine rocks and to find descriptions in a rock identification book. The end project could be a rock collection that is labeled and displayed.
Stamp Collections: Buy stamps at a post office according to the interest level of each child. Use the magnifier to identify the stamps and to describe the picture/print on the stamp. For foreign stamps, locate the country on a globe or map using the magnifier.
Cards: Use a regular deck of cards to play such games as "Go Fish" using a magnifier to identify cards.
Calorie Counting: This activity is often of high interest to teenage students. Use a magnifier to read calorie content (or other information). A quick trip to the grocery store (or access to a supply of typical teenage foodstuffs including soda cans, candy bars, chip bags, etc.) will provide a wider variety of formats and challenges for magnifier users.
Secret Messages: Write secret messages one letter at a time with the letters connected by lines to imitate a typical reading and/or tracking and scanning pattern. Move from top left to top right, down and back, left to right, and so on.
Look-It: Hold a magnifier close to a mirror while the child looks through the magnifier into the mirror. This is a good conversation starter for the structure of the eye, which can lead to further discussion of the student's eye condition.
Games and activities are just an introduction to the ways in which learning to use a magnifier can be made interesting and enjoyable for students. After this introduction, it is time to look around and note the millions of natural activities people find interesting—and to note that using a magnifier will make it possible for the student to engage in these activities too. The magnifier is just a tool to help expand a person's capabilities to pursue those interests. Learn more about other low vision devices available to children with low vision.
For more activities and information about teaching the use of magnifiers, refer to Looking to Learn: Promoting Literacy for Students with Low Vision, edited by Frances Mary D'Andrea and Carol Farrenkopf, available in the AFB Bookstore at aphcareerconnect.org/store.