The 9 Days of Holiday with the Expanded Core Curriculum: Self-Determination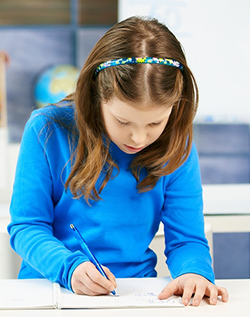 (Editorial Note: The Expanded Core Curriculum (ECC) is specific to children with visual impairments and intended to teach the skills necessary to access the core academic curriculum and to live interdependently throughout life. In honor of the holiday season, we're bringing back nine articles on ways to incorporate ECC skills into daily life, revised for the 2017-2018 holiday season.)
On the ninth day of holiday, the Expanded Core gave to me… self-determination, sensory efficiency skills, technology, career education, recreation and leisure skills, independent living skills, compensatory or functional academic skills, social interaction skills, and orientation and mobility.
What Are Self-Determination Skills?
The purpose of self-determination is to teach children who are visually impaired to recognize their own strengths and also limitations that may exist due to their visual impairment and/or multiple disabilities. It helps children develop confidence in themselves and also teaches them to set goals to plan for their own futures. A big component of this is self-advocacy and learning how to speak up for themselves. The holidays, like every time of year, give chances for self-determination.
The following are some examples:
When choosing a seat at a movie, concert, or play, ask your child where she'd like to sit. Does she need to sit close? Sit on the left due to a stronger eye? Sit in the back because it may be too loud up front? Help your child think about the choices and advocate for herself.
If your child wants to participate in a holiday event but says she can't, find a way to make it happen. What does she need for it to work? Wheelchair ramp? Braille menu? Help your child determine the problems to be solved and how to fix them.
If your child gets upset around a lot of noise or loud music, help her find a way to help herself. She can put in ear plugs, leave the room, or ask politely to turn down the noise. Give her a way to cope with challenging situations. Read additional ideas in FamilyConnect's Survival Guide for the Holidays When You Have a Child Who Prefers Calm.
On New Year's Eve, have everyone in the family set goals for the following year. Help your child have realistic expectations for herself. Don't let her set the bar too low or aim for something it would be impossible for her to achieve within the next year. Remember, we all need to feel success! Read FamilyConnect's tips on helping your child set annual goals.
On this final day of the Expanded Core Curriculum, remember that as parents, you know your child the best, and you can find the best way to incorporate all nine areas into your child's holidays. The gift of independence is truly the best gift we can ever give our children. The nine areas of the Expanded Core Curriculum give us the components that make up that greater package. Happy Holidays!
Related Resources