The 9 Days of Holiday with the Expanded Core Curriculum: Independent Living Skills
By Emily Coleman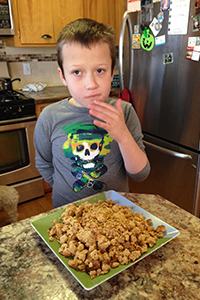 (Editorial Note: The Expanded Core Curriculum (ECC) is specific to children with visual impairments and intended to teach the skills necessary to access the core academic curriculum and to live interdependently throughout life. In honor of the holiday season, we're bringing back nine articles on ways to incorporate ECC skills into daily life, revised for the 2017-2018 holiday season.) On the fourth day of holiday, the Expanded Core Curriculum gave to me… independent living skills, compensatory or functional academic skills, social interaction skills, and orientation and mobility.
What Are Independent Living Skills?
Independent living skills include activities that will help a person who is visually impaired take care of themselves. These skills are typically taught based on a child's abilities and take into account multiple disabilities. Regardless of vision impairment, and possibly another diagnosis, all children are capable of some level of independence, and many will be completely independent as adults. Here are some holiday ideas to help them get there:
Take your child grocery shopping with you; if possible let her gather and find items in the store. If your child isn't ready for that, simply talk about everything you see, smell, and hear around you to give her the grocery store experience.
Let your children into the kitchen! They can make an entire recipe on their own, assist you when possible, or decorate cookies. For those not ready for that, they can still taste, smell, and listen to the bustle of holiday cooking.
Volunteer at the local soup kitchen and put them to work.
Let your child pick out her own clothes for holiday functions. Talk about what's appropriate for special outings and what other people will be wearing. Help prepare her for fancy occasions in the future.
Give them chores around the house so they can save money for Christmas gifts. This is the beginning of money management and also teaches them to think about others.
Give "fancy" lotions and soaps as gifts to your children to encourage good personal hygiene, an area that needs to be taught to all children.
If it's time for your teen to begin shaving, gift your child with a razor and shaving cream and give instructions on helping your teen look good, including learning to shave!
Give your teen daughter a makeup lesson and permission to wear makeup to a holiday party or for a holiday photo.
I've found that independent living skills are easiest to teach at home simply because it includes everything we do as adults to keep our homes in working order. Parents often are short on time to teach cooking, shopping, dressing, etc. to our children, but holiday vacations can give us time we don't always have. So, take advantage of quality time and teach your child who is visually impaired something new. Every skill your child acquires towards independence will broaden her possibilities as an adult.
Related Resources