The 9 Days of Holiday with the Expanded Core Curriculum: Career Education
By Emily Coleman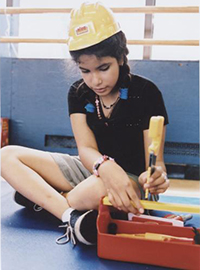 (Editorial Note: The Expanded Core Curriculum (ECC) is specific to children with visual impairments and intended to teach the skills necessary to access the core academic curriculum and to live interdependently throughout life. In honor of the holiday season, we're bringing back nine articles on ways to incorporate ECC skills into daily life, revised for the 2017-2018 holiday season.) On the sixth day of holiday, the Expanded Core gave to me… career education, recreation and leisure skills, independent living skills, compensatory or functional academic skills, social interaction skills, and orientation and mobility.
What Are Career Education Skills?
You might think, "Where does career education fit into the holidays?" In some ways, every skill taught towards independence is a type of career education. At least, it is readying your child for employment. However, many kids have limited exposure to actual jobs in the world and may base their future plans on the few careers they come into contact with regularly. This includes grocery store clerks, teachers, nurses, whatever their parents do, etc. These are all great jobs, but there are many more choices in the world. Here are some ways to expose your child to other career opportunities:
If your children have time off from school, and you have to work, let them join you on the job for a day or part of a day. Treat it like an official Take Your Daughter and Son to Work Day.
If out for a holiday dinner, talk about all the employees that work in a restaurant. There is the manager, dishwasher, server, hostess, chef, food preppers, etc. Your child may think your server does it all because that's the only person seen or heard.
When out shopping, talk about the employees in the store. If you get a chance, have your child ask a few people about their jobs. What are they responsible for at work?
Give a book for Christmas that describes a career or many careers. Even toddler books can be found that are based on employment.
If your child receives gifts featuring favorite characters in a book or movie, talk about their jobs if it's possible. For example, if it's "Bob the Builder," explain that he's in construction and give your child a chance to meet a construction worker in your town.
Volunteer anywhere your child can gain "on-the-job" experience. One example is sorting or gathering toys for a charity toy drive.
When with extended family, encourage your child to find out what everybody does to make a living. The more careers your child learns about the better!
Career education means teaching your child what is possible for him. If he never knows that somebody called a "chef" does the cooking in a restaurant, he'll never aspire to be one. Talking about employment can be a part of everyday education, but it can also be easily fit into holiday time as well. What career have you taught your child about lately?
Related Resources