The 9 Days of Holiday with the Expanded Core Curriculum: Orientation and Mobility
(Editor's Note: The Expanded Core Curriculum (ECC) is specific to children with visual impairments and intended to teach the skills necessary to access the core academic curriculum and to live interdependently throughout life. In honor of the holiday season, we're bringing back nine articles on ways to incorporate ECC skills into daily life, revised for the 2017-2018 holiday season.)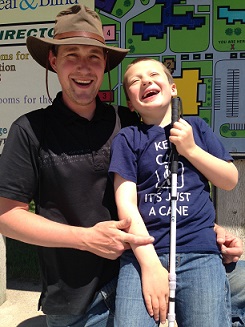 On the first day of holiday, the Expanded Core Curriculum gave to me… orientation and mobility.
What Is Orientation and Mobility?
This area of the Expanded Core Curriculum (ECC) is typically taught by an Orientation and Mobility (O&M) instructor, and being only a teacher of students with visual impairments myself, I'm obviously not an expert. However, I know that O&M is about teaching a child with a visual impairment to understand his body, orient to his environment, and to safely travel from one place to another. This can be a busy metropolis for the young adult or a living room for a young toddler.
Here are a few ideas to incorporate O&M into your holidays:
Let your child decorate his mobility cane or other mobility device for the season.
Use your holiday shopping list and devise a plan for conquering a department store. This means making a tactile map, using toy bricks, or anything available to recreate the layout of a store.
Send your younger children on a scavenger hunt for holiday decorations in your own home. Use lots of directional language (in, above, left, right, besides, etc.) when giving clues.
Find an excuse to go "door-to-door" in your neighborhood. Pick up food drive items, go caroling, or pass out delicious homemade goods or holiday cards. If your child can travel safely on his own, let him try. If not, help him be as independent as possible. Learn how to make the adventure meaningful to your child in a wheelchair or stroller.
Let your children help put up the decorations… outside and in. If they're babies, put them in a sling or carrier and take them with you. Talk about areas of your house as you go. Help your child develop concepts about his own home.
Brush up on winter weather O&M gear and techniques and take a walk outdoors simply to enjoy the crisp air and exploration.
If you're planning a holiday getaway or trip to visit family, intentionally include your child in the travel planning process; if you're flying to your destination, learn how individuals who are blind or visually impaired access the airport independently.
Orientation and mobility is all about getting up and moving about safely and as independently as possible. The holidays give a lot of reasons to be on the go, so keep those kids moving. If you have other ideas, please leave a comment. We'd love to hear it!
Related Resources