Summer Camps and Programs for Children Who Are Blind or Has Low Vision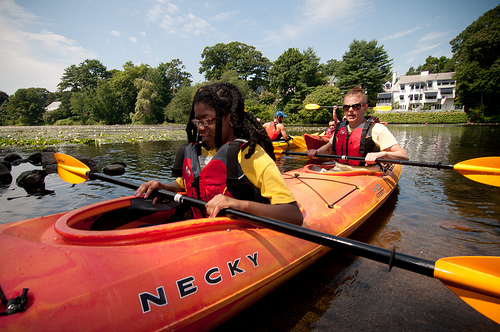 "Camp is really cool. No one there cares that I have problems seeing. Everyone has problems seeing, so we can all get what it's about. We do neat things like camp out overnight in the woods and make our own breakfast over a fire." As 12-year-old Loni shared her camping experience with her parents, she had a huge smile on her face. Though she's fully included in her public school program during the year, going to a camp for visually impaired children each summer gives Loni a chance to meet other kids with visual impairments and share common experiences.
There are various types of camps; the one that's right for your child depends on her interests. Some focus on a particular sport, others on creative activities such as drama or music. And many offer a broad range of outdoor and indoor activities, so there's something for everyone. You'll find camps throughout the United States designed specifically for children with visual impairments that have the same wide array of activities (see the FamilyConnect Directory's list of Summer/Day Camps and After-School Programs for Children Who Are Blind or Visually Impaired).
Summer Fun Has Benefits
Spending a week, a month, or the whole summer with other children who have visual impairments gives your child a chance to meet a wide range of kids, to make new friends, and to find mentors and role models among the counselors or older campers. Your child may also become a role model for the younger children and benefit from that experience as well.
Camping also gives your child a chance to learn new skills in a setting that focuses on cooperation more than competition, where all the kids have similar challenges to overcome. Many camps have specially trained staff to teach young campers how to use adapted techniques to learn athletic skills such as rock climbing and swimming and to use their tactile sense in creative activities such as ceramics and wood carving.
At camp, your child can feel that she's just one of the gang because all the kids around her are visually impaired, too. On a level playing field, she may be more adventurous and willing to try new games and sports.
Finding a Summer Camp
Your child's educational team members are probably familiar with camps in your area and can recommend one. If not, check with your state's special school or school for the blind, commission for the blind, or other state agency serving people with visual impairments. Many camps are supported in part by Lions Clubs, so your local chapter is another possible source of information. And, as mentioned above, FamilyConnect maintains a list of Summer/Day Camps and After-School Programs as well.
In addition to sleep-away camps, there are locally sponsored summer day camps for children with visual impairments. These programs may combine recreational activities such as swimming, bowling, dance, and arts and crafts with learning activities related to the expanded core curriculum.
Many summer camps and day programs are free or inexpensive. If the program in your area costs more than you can afford, consider getting in touch with your local Lions Club or a national organization serving persons with visual impairments to determine if they provide financial help.
Whether your child goes to sleep-away camp or a day camp, the experience is likely to have a valuable, long-term impact on her growth and development. You may be anxious about her being away from home, and you may miss her, but you're likely to find that you're glad you gave it a try.