You're Not Alone: Starting College When You Are Blind or Visually Impaired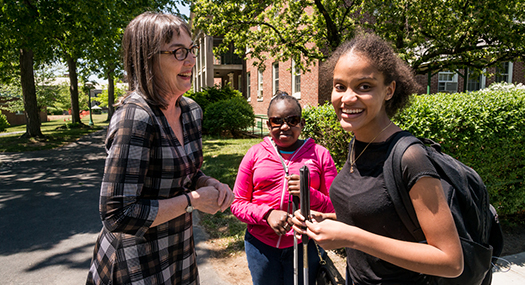 From the AFB Press book College Bound: A Guide for Students with Visual Impairments, Second Edition by Ellen Trief
Starting college can be overwhelming, but if you find yourself feeling this way, you're not alone. Just about everyone finds that going to college means making many big adjustments all at once. At the same time, the transition to college can be the widening of your world. It can be the beginning of finding out who you are, what you want to do with your life, what really interests you, and who your friends and contacts will be for many years to come. Expect to feel confused and lonely sometimes, but remember that this is all a process and an ongoing journey.
In those moments when you do feel at a loss, here are some suggestions that may help:
While you're trying to make new friends and form a new social life, emotional support from people who care about you is helpful. Touching base with your friends from high school and your community, your parents, your siblings or other family members, and trusted individuals such as former teachers can boost your spirits and reinforce your feelings of acceptance and self-worth.
Joining groups or maintaining your membership in them is another way of staying connected with people who can offer you information, tips, help, and camaraderie. Sports, web-based interest groups, and campus activities are just some possibilities.
Consider volunteering, contacting professional and student membership organizations, and exploring mentoring arrangements such as CareerConnect, the employment and careers mentor database maintained by the American Foundation for the Blind.
Social media can provide you with a network of people and resources. You can bounce ideas off them, turn to them for help, and express your interests and needs.
Your college and its campus and national organizations in the field of visual impairment and blindness also offer resources, including staff that can provide useful information and a friendly ear. Counselors in academic, disability, placement, and psychological services on campus are all good sources of assistance and support if needed. So are outreach and hotline operators at national organizations.
Keep in mind that this is just the start of a rewarding transition. For now, you're just learning the ropes, but soon you'll be moving into another, more informed and self-assured phase of your life.
For more information about helping students prepare for their new life in college, developing useful skills, and negotiating for and coordinating appropriate services, check out the AFB Press book College Bound: Practical Steps for Students Who Are Blind or Visually Impaired, available in the AFB Store at aphcareerconnect.org/store or by calling 1-800-232-3044.