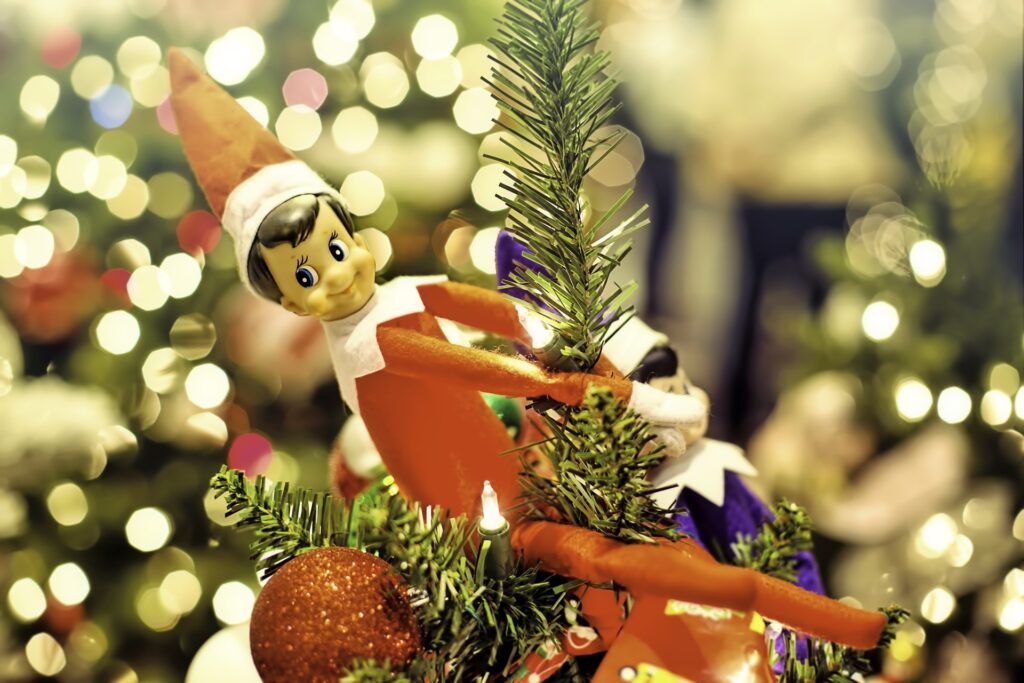 Editor's note: Santa gives permission to children who are blind or low vision to touch their "Elf on the Shelf." We hope you utilize this updated post from parent Holly Bonner of of Blind Motherhood to make the holidays meaningful and accessible for your child!
If You Are Blind or Low Vision, You Can Touch The Elf on the Shelf
"Elf on the Shelf" has quickly become a popular holiday tradition in families and schools around the globe! This combination book with a plush elf tells the story of how Santa Claus relies on scout elves to help him determine who's been naughty and who's been nice.
Once children go to bed, each elf flies back to the North Pole, offering Santa a full report on that day's events. Before the children awaken, the elf returns to his assigned home. He chooses a different place to hide but not before causing a bit of mischief of his own, engaging in various holiday antics like dangling from the Christmas tree or making snow angels from the family sugar bowl. Children who participate in this activity gleefully anticipate finding their elf each morning and seeing just what he's been up to while they were fast asleep.
There is only one rule according to the story: if the child touches the elf, it will lose its magic. Herein lies the problem for so many parents of children who are blind or low vision. Many kids have been experiencing stress, anxiety, and in severe cases, bullying, as a result of their instinctively wanting to touch these elves so that they, too, may fully experience this tradition with some tactile connection.
In an attempt to remedy these issues, Santa has issued a letter to all children who are blind or low vision. He asks that you read this note to your child and print a copy to keep in your "Elf on the Shelf" storybook for years to come.
---
A Letter from Santa Claus
Dear ____________________,
I am so glad you have welcomed my magical Scout Elf into your family! I know you will love visiting with him as we count down the days to Christmas Eve. In the book that came with your elf, you probably heard my rule, "If you touch your elf, his magic 'might go' and then I won't hear all your elf has seen or knows."
My dear child, part of my job as Santa Claus is to know everything I can about each little boy and girl on my list. I understand how you use your other senses, like hearing, taste, smell, and touch, to help you experience the world around you. You may even read braille. Did you know that I can read braille too?
Christmas is a magical time of year, and everyone deserves to "feel it." The elf that I sent to be your scout was selected just for you! His magic is extremely unique because he can only be touched by a child who is blind or low vision! Every morning when you discover where your elf has been hiding, you have my permission to feel what he's been up to. Grab his hands and see what he's holding. Run your finger along his body to feel if he's cold from his journey back from the North Pole. Hold his tiny body close to your nose and take a whiff. Does he smell like gingerbread? If he does, I bet it's because he's been sneaking cookies from Mrs. Claus' kitchen. Ho! Ho! Ho!
If anyone may have worried you about ruining the magic of Christmas because you have touched my elf, please don't listen to them. There are many people in this world who are convinced we "must see in order to believe," but I know each of us feels the spirit of Christmas differently. Your blindness or low vision will never stop you from knowing the joy and magic of this wondrous season! Remember, you have my permission to always touch your Elf on the Shelf.
I look forward to visiting your house on Christmas Eve. I wish you and your family a Merry Christmas and Happy Holidays! Take good care of my elf!
Love,
Santa