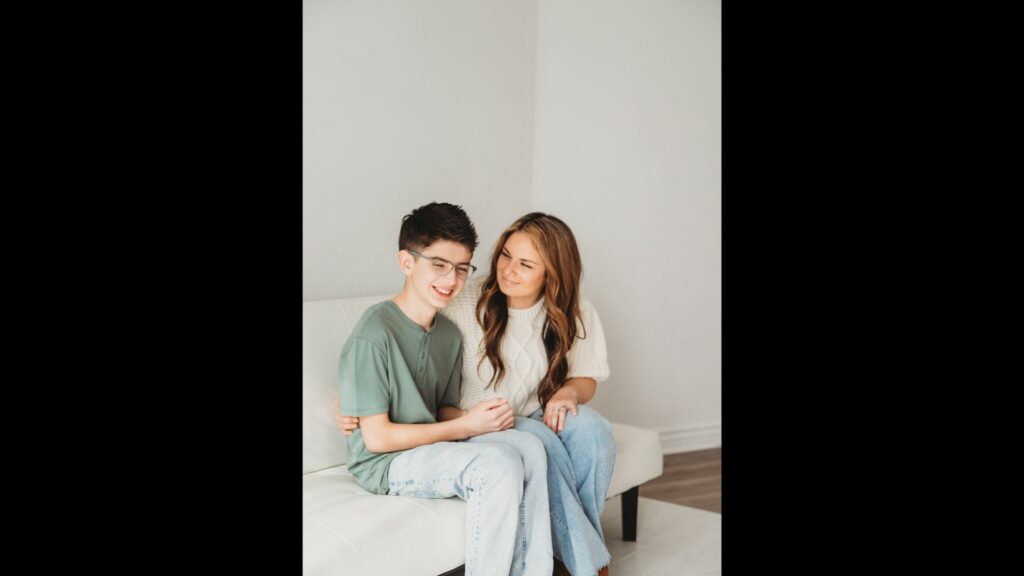 Although she shares she was initially "heartbroken" when she learned her infant son, Ashton, was born blind, Hilda Dunford has learned as much from him as he has from her. As she says, "He's taught me how to see with my heart."
Hilda had Ashton when she was 21, her first child with her husband, Tyler. Because she'd been raising Tyler's daughter as her own, Hilda just knew something wasn't right with her young son's vision.
It's not only because he was immediately sent to the neonatal intensive care unit (NICU) due to severely low blood sugar. After they brought Ashton home, Hilda could tell he wasn't looking in the right direction when he heard sounds and noticed his eyes were "bouncing around," as she describes nystagmus. Ultimately, they arrived at a diagnosis: septo-optic dysplasia (SOD). Although Ashton wasn't born prematurely, both optic nerves are underdeveloped. He's also missing part of his brain, so he requires growth hormones, thyroid hormones, and hydrocortisone – medications to replace what his body can't produce naturally.
But today, 11-year-old Ashton lives just as his peers do. His parents ensured it, including entering him into mainstream school since kindergarten.
"All his life, he's been treated just like any other child – we've supported and encouraged him to learn and experience all the same milestones and do all the same things," Hilda says. "We never tell him he can't do something because he's blind. We always tell him if he wants to do it, we'll figure out a way to make it happen."
Sharing how beautiful life can be
Once she recovered from grief, Hilda had a dramatic change of heart.
"I wish I could go back and hug the young mom who was so scared and worried and heartbroken," she says. "I wish I could tell her it's going to be more than okay – it's going to be beautiful. And now, instead of thinking Ashton is going to miss out on things, I feel like everyone else misses out, because I have a front-row seat to help him reach his goals."
The rest of the world witnesses Ashton's journey, too, thanks to social media accounts Hilda created on Instagram, Facebook, and TikTok, which she named "Our Blind Side." There, she chronicles Ashton's activities – often using the hashtag #blindkidscan – such as navigating the school, skateboarding, skiing, riding his bike, and often with his white cane. Hilda, Tyler, and their two daughters are also part of the stories she shares, including Hilda's experiences and emotions as a mom.
In one video on Instagram, Ashton explains SOD – which happens in just one in 10,000 births – for Rare Disease Day, demonstrating his gentle yet confident demeanor.
"I started the social media as a way to spread awareness about his abilities, and Ashton really enjoys being part of it," Hilda says. "It's taught him that he can be a voice for other blind children."
She adds that Our Blind Side's pages have grown into a community where people reach out. "I love it when people message me to say how much they enjoy our videos – especially other kids who are blind or have vision loss. It's grown into a really supportive community, and it's blessed our family because Ashton has had so many opportunities to share with the world that blind kids are just as capable as sighted kids."
Exchanging knowledge in the real world
Hilda has a bachelor's degree in Behavioral Science with an emphasis in Psychology and works one night a week for a nonprofit where she teaches parenting classes. She was a family advocate for Head Start and worked with an early intervention program. Remarkably, she earned her degree when Ashton was five months old, doing much of her schoolwork in the NICU.
"I love helping families," she says. "When my kids are older, I'd like to get my master's and maybe do therapy with parents of children who are blind or have a disability."
In the meantime, Hilda serves on APH's FamilyConnect Parent Advisory Board, which meets quarterly. She explains that the members talk about ways to spread awareness and drive change. In their most recent meeting, they discussed maybe going to Capitol Hill to explain why APH needs more funding to create new technology.
"I'm happy to support APH in any way I can because that's where all Ashton's resources have been coming from since he was a baby, and those tools are critical," Hilda says. "Without his CCTV, magnifier, braille display, and more in the classroom, Ashton couldn't access things the other kids can."
And she learned even more about what APH can offer from that meeting. Hilda says she plans to talk to Ashton's "wonderful" teacher of students with visual impairments (TVI) to ensure they're using all the tools the way they should. She also intends to tell parents who reach out to her through social media about the many resources available on APH FamilyConnect.
Hilda is continually discovering new ways to encourage Ashton's curious mind and risk-taking spirit – a characteristic she learned is very common in children who are blind or low vision. She wants him to experience life to the fullest, and her social media accounts prove he's doing just that.
"When we met at APH, I told the other parents, 'One day you'll share the story of how you survived the hardest thing in your life, and it will become someone else's survival guide,'" Hilda says. "I don't know where I first heard that quote, but I keep saying, 'Share your story because you never know whom it's going to help.'"