Eddie dressed up as Superman for Halloween, and he enjoyed his costume more than he ever has liked any costume. It might be because I took some of my own advice about Halloween costumes. It turns out that a little strategy can go a long way.
Eddie wears a "Spio" suit to help with his sensory needs. It's basically a spandex outfit worn under his clothes and it covers almost his entire body. Lucky for us, his new suit was blue…which was perfect for a Superman costume. This is how we decided to incorporate his "medical" equipment.
While shopping at the local costume shop, we found a Superman cape that matched his spandex perfectly. I was unsure about the neck strap, and if he'd tolerate it for long, but we made the purchase anyway. The only added prop was a ninety-nine cent red face mask that matched the cape's shiny fabric.
During the first attempt at getting the cape and mask on Eddie, he wanted nothing to do with it. However, after some pretend "flying" around the upstairs…and lots of "Superman Eddie!" comments, he decided he was game. We continued to talk up "Superman" all week and whenever he wore the cape we helped him move/ walk extra fast.
When Halloween arrived, we asked Eddie if he wanted the cape and he said, "Cape, YES!" This was quickly followed by, "Mask, YES!" It seemed he was ready. The staff at school joined right in and pretended he was Superman…having him walk the hallways fast, and ride the swing on his tummy. Eddie laughed through the chaos of an elementary school on Halloween and had a fantastic day.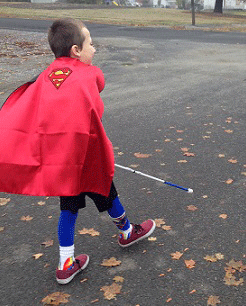 In this picture of him walking home from school, he was wearing that cape with pride. In fact, he loved it so much he wore it the entire next day, too…and the mask. I'm consistently surprised by this little guy. I would have never thought dressing up for Halloween would be interesting for him, but he proved me wrong. I love it when he proves me wrong.