A couple weeks ago, I was putting my son to bed and looked around for a great bedtime story. We have print-braille books that I like to read to him, and most days he likes to listen. However, we've read them all a few times, so I was looking for one I'd forgotten about. What I found, was a blast from the past.
About three years ago, we moved from Montana to Washington State. When we moved, my son left behind his pre-school, which he had attended for three years. There was a teacher and two classroom aides that saw him through his entire preschool journey, and they wanted to send him off with a special keepsake. They picked up one of those recordable books from Hallmark, and took turns reading as it recorded their voices.
The book they selected was called, "Twinkle, Twinkle Little Star," and it is now memorized by everyone in our family. It has become the BEST motivator that has ever existed for Eddie. When it's time for bed, I tell Eddie, "First, pajamas. Next, medicine. Then, bathroom. And THEN, Twinkle, Twinkle!" I swear nobody has ever seen a blind child with an orthopedic impairment move that fast.
He practically sprints through the house to each station on his to-do list, until he throws himself into bed, pulls up the blankets, and waits for "Twinkle, Twinkle." He lays there giggling until we turn the page and the book begins. The next time someone needs a gift idea…I'm sending them straight towards Hallmark and their recordable books. As you can see by the picture, he literally buries his nose in this book to get closer to the speaker.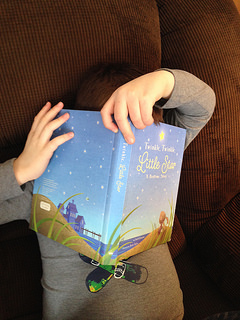 Finding something that motivates Eddie is pretty tricky. For example, today is the Super Bowl, and I live in Washington, so this is a house of Seahawk fans. Right now, every eight-year-old in town is motivated by the Seahawks and the big game…but, not Eddie. I said, "Go Seahawks!" and he said, "Or?" I said, "Broncos?" and he said, "Or?" Finally, I said "Twinkle, Twinkle," and he said, "OK!"
I'd like nothing more than for Eddie to enjoy the Seahawks right along with our family and friends, but that simply isn't the case. He doesn't care who wins, and he doesn't want to listen to the game. Someday, he may care, because he does come from a long line of Seahawk fanatics…but, not today. Today, he'd rather spend time with this book, and that's OK with me.
Many people who are blind or visually-impaired do love sports. Is that true for any of your visually-impaired kids? What's their favorite way to take them in; at the field, on the radio, or on TV? Or, would they rather play themselves?
Finally, one more shout-out for Seattle. Go Hawks!