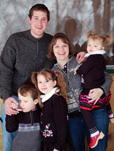 Last week lightning struck and I happened to be in the right place at the right time. My family was out to dinner and Eddie drew a little bit of attention as he walked in with his white cane. We were quickly approached by a man not much older than me who was dining with his parents.
He introduced himself and his mother and immediately I was aware that he happened to be blind. He said his parents pointed out that our son had a cane and he wanted to meet us. I was so grateful that he came forward because I don't know that I would have been brave enough to approach him.
After brief introductions, we quickly swapped emails. A few days later, I received a message that they wanted to get together. I was invited to his home because he and his mom wanted to share their stories with me and were very interested in Eddie. Of course, this was an offer I would not refuse. Being in training to become a teacher of the visually impaired, I spend a lot of time studying methods and best practices, but now I was going to get a chance to ask the experts.
While visiting, I learned about his experiences in school and also in college. He willingly discussed his job and gave me a tour of his home, which was in a great neighborhood. Because I am not completely new to visual impairments, his success alone was not amazing to me. This was an intelligent, successful adult. Of course he would have a job, a home, a great family, and multiple interests.
What I loved about visiting with him was discovering his methods for organization, thoughts on technology for those who are blind, and firsthand knowledge of the life he has led. I am looking forward to having him over to spend time with Eddie, and he stated he'd love to bring some stories to read the kids because he has a passion for writing. I'm sure they will love it.
I am so grateful for this opportunity that I simply had to share. I think interactions with adults that have visual impairments is extremely important for parents that are guiding their own children down the same path. Also, learning from their parents is a gift because they have successfully done a job many of us have only started. The pool of knowledge is infinite and so valuable.
I'd like to suggest that all parents who have an amazing child at any age that they'd like to share should definitely do it! Every one of us is proud of our children for multiple reasons and we should be. Each and every success is made with a lot of work and we can't let that knowledge dissipate without passing it on.
Serendipity will not always bring us together, but we can seek out other parents like us. I try to reach out to those that have just learned about their child's visual impairment and I implore others to do the same. We all know this whole process is easier and less intimidating with backup. I admit that I need support from others and I truly find that most often when I offer support as well.