As a gift to my children, my kids' Grandma gave us tickets to go on a local "Santa Cruise." This involved riding on a boat in a local lake out to an island highly decorated for the season, and Santa himself available to greet the kids. This became another opportunity to work on the Expanded Core Curriculum (ECC) during the Christmas season.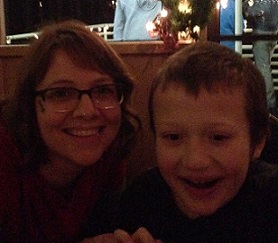 Having never participated on a "Santa Cruise" before I didn't know what to expect. I knew there were lots of Christmas lights and decorations along the shore as we went, but didn't think that would offer much for Eddie. Luckily, the ride offered many other sensory experiences like hot chocolate, candy canes, and holiday music. Even the movement of the boat was enough to put a smile on Eddie's face, which we captured in this photo on the cruise.
As we neared Santa on the other side of the lake, all of the kids rushed outside to see him and listen as he read the list of "nice" kids. Although Eddie made it outside briefly, he was mostly uninterested in this aspect of our adventure. Even as Santa read the name "Eddie," Eddie himself was trying to get back inside to the warmth of a heated room and the sounds of holiday music.
Eddie did have a chance to explore an entirely new location as we waited to board the boat, and also explored the boat. As he investigated and ventured outside of his comfort zone, we worked on Orientation and mobility concepts, especially the important directional and informational terms like "outside/ inside" "up/ down" "right/ left", etc.
After the cruise, the kids were hungry and we attempted a restaurant outing. One of our family favorites is finding the nearest Denny's. I thought this would be a great way to work on independent living skills, especially Eddie's table manners. In this picture from dinner, Eddie is laying down at our booth, and entirely called it "quits" for the night. Although the rest of the evening was pretty successful, I knew that dinner would not be a learning opportunity.
Overall, our holiday outings this season have been mostly successful. Sometimes we just have to know when the "day is done" and for Eddie on this day, he made it perfectly clear. As we are now in the midst of holiday travel and family fun, we are experiencing some successes and some near-misses. However, when including Eddie, every attempt at learning is an adventure I wouldn't miss.