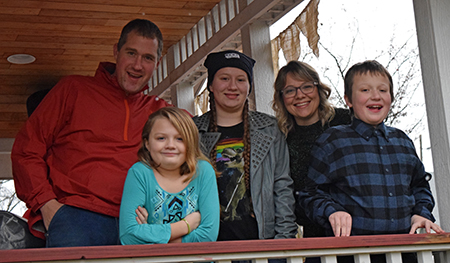 Eddie wakes up everyday asking what is going to happen next. He likes a schedule, prefers to stick to it, and adding something new can make him uneasy. Children who are blind can be unsure about new experiences. Being unable to predict what will be expected and unsure if they will be successful can be scary. However, we keep pushing him so that his experiences broaden and his ability to participate in life expands.
Because Eddie isn't an only child, he is often asked to attend events to support his sisters. These include games, band concerts, girl scout functions, and more. He isn't always impressed with the activity, but once we've committed to include him, we do everything we can to help him successfully participate. Unfortunately, not every attempt succeeds.
This weekend, we took him to his younger sister's, CC's, first basketball game of the season. When he entered the gym, he became more upset than we'd seen him in a long time. He cried, shrieked, threw things, ground his teeth together, and clenched his fists. We tried to calm him in a variety of ways, without success. In the end, his dad had to take him for a car ride until the game was over… missing out on CC's first game.
This is where stepping back comes in. Eddie was hysterical, pretty much in crisis, and no efforts on our part were going to change that. We have high expectations, and we push him a lot, but we also recognize when he is trying to tell us "No." He tried. He willingly came along until the noise in the gym, or some other factor, put him past his breaking point. After that, it was up to us to show him he was safe, and he was heard.
As parents, it's often our job to have the highest expectations. We can push boundaries the farthest because we have parental rights that allow us to take bigger risks. However, it's also our job to step back sometimes and give our kids a break. That's our parental right too. They need us to listen to not only their words but their emotions and actions.
When we take a step back, we are building trust. This allows our kids to be "all in" next time so that we can take a giant leap forward.
More from "Raising a Child Who Is Blind"