In church yesterday, the discussion turned towards a mother's suffering, and how regardless of what children we have, or the lives we lead, there will always be times when a mother suffers. I waited for the typical ending where it is said that no matter what suffering we endure, our children are always worth it…but that actually never came up. It was a message of simply, "Thank You" to all mothers for the difficulties they face.
As a parent of a child with multiple disabilities, there are certainly times I feel like I'm suffering, and I just want to suffer…without having to add any disclaimer. It was sort of refreshing to have that justified in a way. I already was feeling guilty on Mother's Day because of my request for a gift.
I had asked from my husband that I just have a day to myself, to accomplish things on my to-do list and on nobody else's. I felt bad about wanting that, until I read an article about how that's all that many moms of special needs children want. We spend every day dedicated to the well-being of children that aren't always easy…and on Mother's Day, it can be a great time to take a break. I did spend the day before on a family outing…which reaffirmed my need to take a day for myself.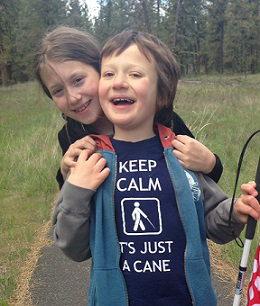 I took the kids to a wildlife refuge for a hike. If you don't have an "Access Pass" from the national parks and recreation lands, I suggest you look into it. It provides people with disabilities a lifetime of access for only ten dollars. I realize not everyone appreciates taking advantage of special treatment, but I figure I spend ten times what typical families due on medical expenses…so saving money for recreation is certainly within my rights.
Anyway…my daughters really wanted an adventure, and my son was along for the ride. As you'll see by the first photo of Eddie and his big sister, there were moments of fun, when all the kids were getting along. They laughed, made up songs, and took time to take in the sights, sounds, and textures provided in the outdoors.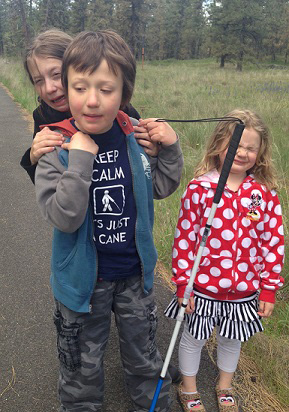 You'll notice the second photo was taken moments after the first…and the mood had changed in a heartbeat. Eddie was seeking escape, his older sister is being dramatic, and the younger one got his cane in her face. In reality, our family climate is never stable, and changes come faster than you can say, "cheese" when taking a photo.
This unpredictability is anxiety inducing, and on Mother's Day, I just wanted a break from that. I did wake up to coffee in bed, and sweet cards from my girls. Like many moms of children with autism, I didn't get a hand-made gift from my son, or a simple "I love you" or a "Happy Mother's Day."
What I did get from my son was a hilarious recording of him singing in a very high voice along with the beat on his keyboard. I recorded it on my phone, and listened to it all day laughing at his uniqueness and the gift he didn't even know he was giving. His struggles may be the cause of my suffering at times, but he's also the cause of great joy and laughter.
So, I'd like to say Happy Mother's Day to all the moms who can relate to my life, and my son. Regardless of the gifts you may or may not have received, I hope you all had time to take a break for yourselves. Time to reflect on the mother that you are…and the children that might make you suffer…but more importantly make you laugh.