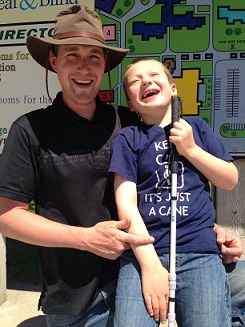 Note from Emily: There is no one better to write a blog for Father's Day than the best Dad I know, my husband, James. I'm grateful for his insight in this posting, and simply for who he is every day.
---
All right, fathers out there who are struggling to make the right decisions, while being lucky enough to have a child with a disability under your wing. It's hard enough to have children with "normal" lives who depend on your every decision to be the right one. Decisions can be made to make your life better or the life of your child. I've always been told "happy wife, happy life." Well, that's not easy when you're dealing with a child who needs more of your time than your other children. Making your life happy can be difficult if you can't make your family happy first.
I've learned that the more time I spend with my son Eddie, who is autistic and diagnosed with a visual impairment, the more I am rewarded and also stressed! For example, every smile I am able to put on Eddie's face gives me a smile tenfold. Every time I can make him laugh gives me laughter inside, which is very gratifying and gives me a better outlook on the day ahead.
Well, with that said, the tables turn extremely fast around my son, who can be happy and just a blink of an eye later can be in a world of despair, which sounds like something is taking the life from him. It's the following decisions that make or break a situation of that magnitude. Many times there are no good decisions. It may take time to calm Eddie down and as his father it's sometimes the best tool we have in our arsenal. Time is of the utmost importance when I would much rather have time spent with happy Eddie.
On a day where the world celebrates fathers of children it's easy to wake up and expect today will be a great day to spend with my family; a great day to smile, laugh, eat well, play, and have fun. It's also important to find that one or many activities that bring your family close, close enough to enjoy each other's company. For me it's finding those activities where my girls find Eddie entertaining, someone they want to play with (not always an easy task).
So on Father's Day I look forward to finding that activity that brings a smile on my daughters' faces when they want to be included in what Eddie does. With Eddie, his favorite activities are to dance, swing, play games, listen to music, bike rides (he rides in a bike trailer—what kid wouldn't like to be pulled by a bike?), listen to stories, but mostly he just wants to be included, while at the same time enjoying time to himself.
This Father's Day, I recommend not trying to celebrate yourself but to celebrate the time spent making your whole family as one! Forget the difficulties that plague people who are disabled and embrace the decisions you make to forge a better, more connected family. And always try new things, because occasionally they work.
Every Father's Day since I've had children has been a day to cherish, a day to stop and smell the roses, a day to reflect on family and what it means to be a part of something greater than myself. It would be nice to get out and play a round of golf, go hunting, shop for something you want, or even just go for a peaceful drive in the country alone.
But being a dad, on Father's Day, I feel it's a day where I can embrace my family and enjoy their company without having the everyday in my way. I can tell you on this Father's Day we will play games, eat well, and dance!