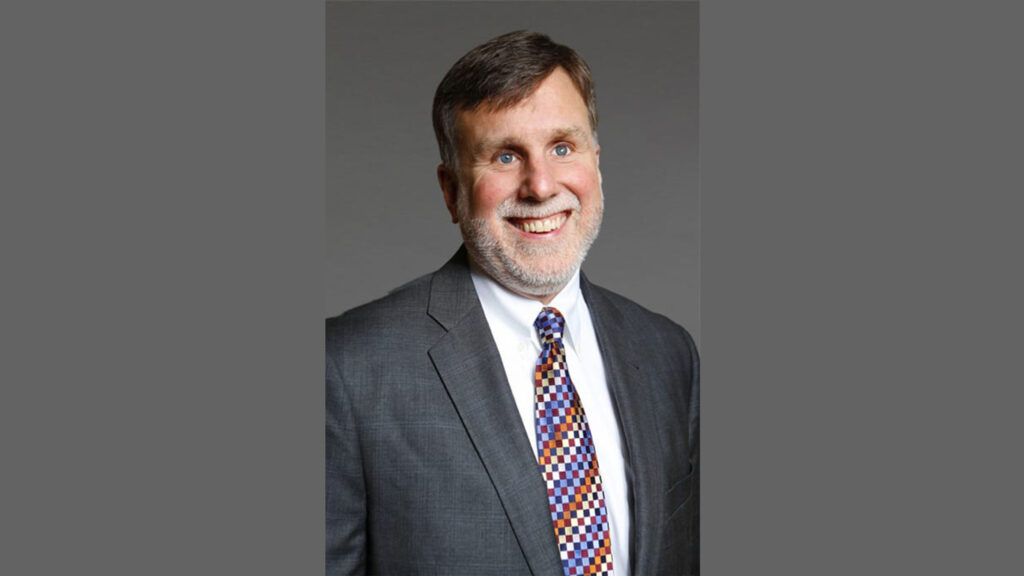 Paul Schroeder, who is Vice President of Government and Community Affairs at APH, has had a successful and satisfying career so far. And he's quick to credit his parents for making a lot of good decisions after he lost both eyes to retinoblastoma – cancer of the retina – by the time he was two years old.
"Back in 1964, retinoblastoma was often treated with radiation, but I know a lot of people who had that treatment and later developed secondary cancers," Paul says. "I was fortunate that my ophthalmologist made the recommendation to my parents to remove my eyes, which had to be a pretty dramatic decision for them to make."
Paul, who has prosthetic eyes, points out that treatments have advanced since then. But for him, the good decision his parents made about his treatment was just the beginning.
"My parents did a lot of things right, based on instinct and getting some good advice early on," he says. "No one in our family had ever had vision loss, so this was all new to them and they were going through a lot of grief."
Much of this advice came from Paul's ophthalmologist. For example, his parents asked if they should keep him in his playpen. The doctor's response? "No, and if I come to your house and find him in his playpen I'm taking him out of it. He needs to do whatever his older brothers are doing," Paul explains, sharing a story he says his parents used to love telling him.
"My parents got that message, which was to 'let Paul be Paul,'" he adds. "It's so important for parents to hear things like that."
Leveling the playing field
Based on his own experience, Paul believes it's essential for parents to treat their kids with vision loss the same way they treat their sighted kids – and have similar expectations of them. So he would ride his bike in the street, climb trees and play ball with his brothers.
"I'm sure, especially with the bike riding thing, my parents were probably gritting their teeth," Paul says. "On the other hand, they knew I wanted to have the same experiences my brothers did."
Although Paul attended the New York State School for the Blind (now called the New York Institute for Special Education), he went on to attend public high school, where he was class valedictorian. He then studied Political Science and International Studies at American University in Washington, D.C., which inspired his career in disability advocacy.
"It's equally important to have a mix of friends, which I did, especially in high school and college," he says. "That can make all the difference in the world for learning how to socialize and fit in."
Making bold career moves
Paul landed his first job in disability advocacy when he was 22 years old. The Ohio Governor's Office of Advocacy for People with Disabilities was a new office that was just staffing up. So he went to apply – and found himself in a unique situation.
When Paul went in to speak with the man who might hire him, he was in the hospital. But he was well enough that the office assistant told Paul to go ahead and visit him in the hospital.
"I don't know if it was my audacity of visiting him there or whether he thought I had something to offer, but he said 'Let's see what this kid's got,'" he says.
Through this job and others, Paul went on to do a great deal of work related to the passage and implementation of the Americans With Disabilities Act (ADA). During his career, he's worked for organizations including the National Federation of the Blind (NFB), the American Council of the Blind (ACB) and American Foundation for the Blind (AFB).
Paul joined APH in December 2020, where he works closely with Congress and policymakers to ensure APH receives the annual Federal appropriations it needs to provide books and educational materials. He also oversees APH's museum and APH ConnectCenter.
He obviously has plenty of talent and a solid work ethic, but Paul has never forgotten the advantage his parents gave him. In fact, when he gives speeches at schools he admits he "tested some limits" – and that there's nothing wrong with that, as long as you're not endangering yourself.
"A friend who used to work for AFB would tell parents who were concerned about their kids falling down, 'I hope they do, because it's an experience they need to have,'" Paul says. "Take those chances, take some risks, learn how to interact with others but also learn how to be your own person. It's so important for kids to hear that it's okay to push the limits a little bit."
February 28th is Rare Disease Day, which raises awareness of low-incidence conditions, including eye diseases such as retinoblastoma.