Due to the chaos that surrounds back-to-school for all children, Eddie gets a bit of a jump start. Yesterday, about a week before school starts, he began attending for half-days to get reacquainted with school. He's done this before, and it hasn't always gone well.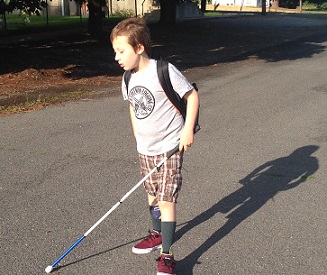 Some years, if we even mention school, Eddie protests verbally and physically. When I started talking about school last week, he simply said, "No." One word pretty much wrapped up his thoughts on the topic.
When he woke up yesterday, we were unsure how he would greet the day. Of course we talked about school the night before, and the days leading up to this moment. I think it would've been a huge mistake to "spring" it on him. He always needs time to wrap his brain around a major transition.
Lucky for us, we awoke to him singing in his room, which is always a good sign. When reminding him about school, he didn't get upset. He sang through breakfast, through getting dressed, and even as we headed out the door. Once we reached his classroom, Eddie shocked us both.
With prompting, he said "Hi" to his familiar classroom aide, and then quickly said, "Bye" on his own. I asked, "Bye, Mrs. K" or "Bye, Mom and Dad?" Eddie's response was an immediate, "Bye, Dad." We are dismissed regularly by our daughters without special needs, but for Eddie, this hadn't happened on the first day of school.
We've worked on "hi" and "bye" for a while, but these aren't priorities for him, likely due to him being autistic. This time, he said "bye" with no prompting and with great deliberation and initiation on his part. He was ready for us to hit the road.
As I type this, I can't help tearing up a little because I almost depend on him depending on me. This year, as he starts 3rd grade, he's starting to show me that he is growing up. My desire for him to be independent, is now a desire for him, too. For that alone, I am really proud.
We walked out of that classroom confident in our son, and in the year ahead. Thanks to his simple sentence, "Bye, Dad," I know he's ready. If he's ready to move forward, then I can be, too.