Last week, Eddie turned 12, and it didn't knock the wind out of me as it has in year's past. I wasn't met with fear about his future, anxiety about how much he has to learn, or any measure of grief over the life I once envisioned for him. Instead, it felt very much like a birthday for any kid… a day of celebrating Eddie. At one point, I even browsed through his baby book where I rediscovered the narrative of his birth.
Basically, I went to the hospital with his Dad and my sister, was induced because he was late, and had my water broke because it wouldn't go on its own. Eddie was big; my doctor and a pediatrician were on hand, and after the delivery, everything seemed to be good. All the grandparents rushed the hospital room, we were moved to recovery, and Eddie's stats were recorded as 21.5 inches long and 9 pounds, 12 ounces.
Besides being huge, and a moment during delivery when they thought his arm had been hurt because of that, Eddie came into this world in much the same way all other babies do. Starting only 12 hours later, we were met with uncertainty when they discovered he had low blood sugar. Next, a non-functioning liver kept him in the NICU for 17 days. This of course was followed by his optic nerve hypoplasia diagnosis four months later, and an autism diagnosis five years after that.
The few hours that followed his birth was the only time in his life where things were going as planned. Within 24 hours, I'd learn that none of us are in control of our destinies. I'd learn that months of planning his future, and years of planning my family, was fruitless. I'd learn that at the end of the day, we don't make our future… our future makes us.
This is why my favorite word is "serendipity." Merriam-Webster defines it as "the phenomenon of finding valuable or agreeable things not sought for." Oxford's meaning states, "the occurrence and development of events by chance in a happy or beneficial way." To me, Eddie was a serendipitous event in my life.
I'm not saying that a higher power wasn't at play, yet I'm not traveling that reflective road today. What I'm saying is that Eddie is somebody I wasn't looking for, wasn't planning for, and yet he was the finale in a "development of events" that has brought me and my family great happiness and value. My favorite word is "serendipity" because that word means "Eddie" to me.
So, happy 12th birthday to Eddie. I look forward to years of surprises and unplanned happiness that he continually brings. I would hope for everyone to experience some measure of serendipity in their life, and even better, some measure of Eddie.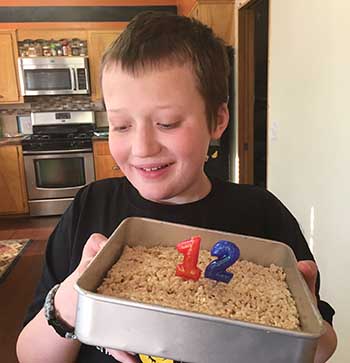 More from "Raising a Child Who Is Blind" Blog
Gaming Day with Students Who Are Visually Impaired
Accessing an Inaccessible World