To continue our holiday outings inspired by my Expanded Core Curriculum (ECC) articles in relation to the season, we made gingerbread houses. A favorite charity of mine, The ISAAC Foundation, was holding an event to raise money for families affected by autism, which includes us. Their generosity helps out Eddie immensely, and we wanted to participate to give a little back.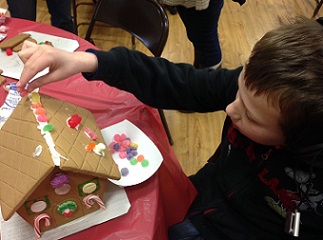 My sister was looking for a gift idea for the kids, and I asked her to purchase gingerbread houses for my daughters for this event. I knew they'd have a blast, and it would also be for charity. I had no hope that Eddie would find any joy in this outing. He doesn't like to play "pretend" very often, and his candy intake is pretty limited. I never dreamed he would even attempt to put candy on a gingerbread house, which has little functional meaning to him.
Lucky for us, the kids' Aunt Liz agreed to purchase the houses, and we had another holiday outing planned. I wasn't even going to take Eddie, but since I've been writing a lot about including our children who are visually impaired in all aspects of the season, I took a risk, and brought him along. I still had no illusions that he'd participate, and said it multiple times to other adults once we arrived at the venue.
In the picture I've included in this posting, Eddie obviously proved me wrong. As he sat at the table listening to music on his headphones (yes…I did bust out the anti-social device) he began to show a little interest in the activity at hand. So, with a little guidance, I helped him put a couple pieces on the house. Once he figured out the candy concept of "one for the house, one for me" he jumped right in and decorated ½ of a roof.
All I could think about was how amazing this was and so I kept talking about it. To anyone within ear shot I said, "Can you believe he's interested? Do you see what Eddie is doing?" In my own amazement, I probably sounded a little obsessed, but I was truly shocked. Again…he surprised me…which isn't too surprising.
Following the decorating, Santa arrived for some photos. Like all spontaneous events, we were just going to "wing" it. The girls were great, and Eddie had a hilarious multi-sensory event. He felt up and down Santa's costume, he rubbed his beard, he laid across his lap to reach his boots, and he laughed hysterically for over five minutes. This was certainly not appropriate social behavior, and not the social skills lesson I'd hoped with Santa, but it was still delightful.
I watched the whole room smile and laugh at his antics, including Santa, and his joy was so visible. This was yet another holiday success that touched on these aspects of the Expanded Core Curriculum: Orientation and mobility, Social Interaction, Recreation and Leisure, and Sensory Efficiency. What holiday outing will we tackle next?