I look at this picture from last Christmas and wonder, "How can it already be that season again?!?" Every year, literally every year, I am asked to consider Christmas gift options for my visually impaired son. Friends and relatives are looking for a great idea that Eddie would enjoy. As a parent, I'm more concerned about what Eddie needs. Most days, due to developmental delays, Eddie doesn't communicate what he wants; however, I'm always aware of what he needs.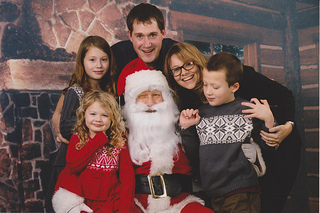 Eddie needs to be more independent. He also needs more activities that incorporate sensory stimulation. He needs more physical activity, and needs social interactions with peers. Like always, he needs more opportunities to learn and interact with braille. After compiling that list, I started thinking about how to make those needs into gifts that he'll enjoy getting, and that everyone else will enjoy giving.
Since independence was my first thought, I'm going to start there. What I've learned from Eddie, is that he will perform more independently when motivated…so, what motivates him? The first thing that came to mind was music. Eddie loves music. He seeks it out and asks for it daily. In fact, many of his demands of us include turning music on…or off…or changing songs. He asks for our help…but does he really need it?
That helped me come up with my first gift idea; any musical device that he can operate on his own. When he was younger, this would have involved some simple toys that play the same song repeatedly, and are easy to activate. Now, the same song over-and-over drives him crazy, so I have to think a little harder.
He definitely needs more technology in his life, because that is how visually impaired students become successful in the "real world." The obvious gift idea is a CD player, MP3 player, or other device that is easily operated by a child who is blind. Any of those options would increase Eddie's independence.
Gifts that are sensory related…or involve physical activity…are a little bit harder to come up with. One thing Eddie enjoyed in the past is horseback therapy, and it isn't often covered by medical insurance. Another family I know had everyone pitch in to buy horseback therapy sessions. I thought that was a fantastic idea! Other sensory items that always come in handy are new swings, trampolines, therapy balls, and I'm sure we all have something unique recommended by somebody.
Finally, social interactions and something with braille are always nice to have. This can easily be combined if you find a game…with braille. You can order games online that even come pre-brailled. I've seen this with games as common as Monopoly. Because I also know braille, I can pick up a game like "Uno" at the store, and add braille myself. If your child uses low vision aides, like magnifiers, I even recommend buying games off the shelf and encourage them to use their aides…which will only help them with skills needed for school.
Like every year, I really try to encourage gifts for Eddie that will build his skills…and make him more independent down the road. And when in doubt…I simply suggest braille books. The more he is exposed to braille, and has stories read to him, the better his auditory and tactile skills will become.
As usual, I'm speaking from my experience alone. Every year is new for me as I try to find gifts for my son as a toddler…as a pre-school kiddo…and now as an elementary aged child with a visual impairment. If you have any gift ideas…or any suggestions for Eddie…I'd love to hear them. Please take the time to comment on this post and share your own experiences and knowledge.
If you want more information and tips for the holiday season, check out the FamilyConnect Holiday Guide. You'll find a lot of ideas and suggestions for families with visually impaired children. Be sure to check it out at www.familyconnect.org/holidays.