Yep, I know it's hard to believe, but the season for gifts is quickly approaching. Every year, we struggle with what to get Eddie for the holidays and so does everyone else. It's hard to find the perfect gift, but by reflecting on some "winners," I'm hoping it will help with the selection process this year. So, here are five of his favorites that have withstood the test of time.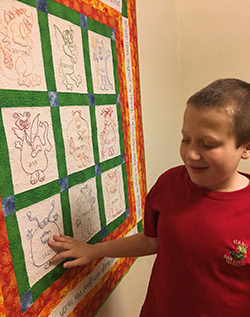 Musical instruments. At this moment, Eddie has in his room a set of bells, a snare drum, a keyboard, four different sizes of bongos, a tambourine, a guitar, and a harmonica. His preferred instrument varies from day-to-day, but every day he plays at least one and many of these were gifts. Some were of no interest on the day they were received, but over time, he has grown to love and use them all.

A quilt with braille that his grandma Cindy made (seen in photo). Eddie didn't have an interest in this quilt when it arrived years ago, but now he regularly asks us to read the story about monsters embroidered within as he feels for the braille made of french knots. No, it isn't perfectly sized braille, but he knows the words, and he knows what they say. To him, that means the most.

The parachute toy has become a favorite. I'd only seen it used in PE or pre-schools until Eddie received one of his own. Now, we use it in our living room with siblings and other kids when we have company. He loves to shake it to music as he feels the wind blowing on his face. Not only does it keep him active, but it also provides social interactions.

Speaking of sensory, swings have always been a hit. He's had a platform swing for years that has been relocated to school. He also has a swing from IKEA that is like a cocoon that we still have at home. He even has a horse swing made out of tires that we used to work out his core muscles and work on balance. It's still hanging on our swing set, although he doesn't love the work-out.

Finally, music-playing technology. He loves the Amazon Echo, and his new favorite phrase is, "Alexa, play some music!" In the past, an iPod touch or iPad was the preferred device, but it's so much easier to ask Alexa for some tunes.
After writing this out, I'm reminded that many of these items weren't a hit at first, but they have become his faves over time. This holiday season, we should all try to remember that our kids take time to learn new toys. They sometimes need repeated exposure to find the benefits. I think I'll challenge myself to continue looking for items that are the "next step" for Eddie.
It's easy to go with the old stand-bys, but he needs his horizons broadened by us. With many kids who are blind, they are most comfortable with what is familiar. Gift-giving might not always be about giving them what they want, but maybe giving them something new. I'm wondering what items you've given your kids who are blind that were a success? Maybe your reflection might help the rest of us out this year too.
Holiday Gift Ideas for Children with Visual Impairments
Toys and Gift Ideas for Children Who Are Blind or Visually Impaired
Holiday Gift Ideas for Children and Teens with Visual Impairments, a Round-Table Discussion
Helpful Products and Toys for Parents of Children with Visual Impairments