Parents truly love homemade gifts. My son who is blind has educators that have done an awesome job providing us with treasures. Getting something crafted by our own children is always a treat…and quickly put on display. The best gifts are meaningful to us, but also meaningful to our child, too. Here are four tips for creating a homemade gift perfect for Dad AND for their child who is blind.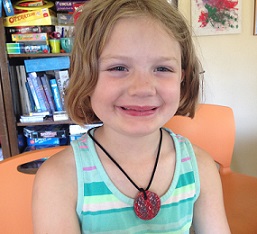 1. Make it tactile. For Mothers' Day this year I received the necklace being modeled in this photo by my sighted 6-yr-old. My son made it at school out of clay, and he used the bottom of his shoe to "stamp" a design. The ridges gave the necklace a texture that we both loved. This same concept can be used to make Dad something for his desk, or a living room shelf. Another easy way to make a gift tactile is to add braille. Create a card, or have them write Dad a special note on their own.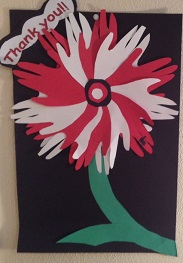 2. Maximize the vision they have. For example, students with Cortical Visual Impairment (CVI) prefer high contrast or a black background to help objects stand out. This art project was made for me by a student who has CVI. She participated by helping cut out her hands on white and red paper, and then gluing them onto a black background to make a flower. She created something unique, while also being encouraged to use her vision.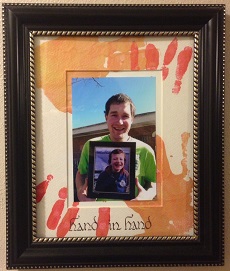 3. Let the child help, too. Last year, my son's teachers planned this unique photo as a gift. Obviously, a photo has little meaning for a child who is blind. As you can see, they added an aspect of his handprints within the matt, so he was part of the final product. Although maybe only the handprints were meaningful for my son, a simple framed photo may have given him no meaning at all.
4. It doesn't have to be complicated. As you can tell by now, my son's school plans great gifts for his parents. They have a good grasp of what would be special to us, but also fun for him to create. I hear Pinterest is their go-to for ideas, and I'd say they make good use of that resource. Some years we have even received a potted plant, and that kind of activity extends beyond a gift into a lesson about gardening. I love gifts that teach, too.
So, Fathers' Day is almost here. What do you have planned? Has this article tempted you to try something new that you would like to share? Ideas are always welcome, and will likely be put to use. A very special "Happy Fathers' Day" to all raising a child who is blind or visually impaired!