Differentiation is one of those big words heard all the time at school. Basically, it means adapting a lesson in a variety of ways so that all kids can learn, even those that learn differently. This actually can make something meaningful for a student who may not be ready for the whole concept at once.
Well, this past weekend, I've been applying this concept at home. Instead of adapting lessons, I've been adapting activities. In the summer, Eddie (my son who most readers know is blind and autistic) has a pretty hard time. Unsure of what to do with so much free-time, he gets easily bored with his preferred activities.
Most 9-year-olds live for the freedom of summer. There are adventures to be had, new games to play, and sunshine to enjoy. Well, I don't think Eddie feels any different…he just doesn't always know how to access it. In the past, I'm not sure I've always been good at providing those opportunities, but I'm trying harder this year…which started this weekend.
First, we've been playing a lot of baseball as a family. Eddie likes to be around us while we play. He finds his way outdoors to see what we're up to, so of course I started including him. At first he said, "No," when I asked if he wanted to play. However, with coercion, cheering, and my assistance…pretty soon he was batting right along with me. He laughed every time we made contact with the ball, and grinned as the bat reverberated in his hands.
Second, we had two parties at two different lakes this weekend. Eddie enjoys swimming (as you can see from this older picture), but the cold water scares him off at first. As the girls ran and jumped into the lake, Eddie had to be slowly coaxed. Since I had to join him in the frigid water, I couldn't blame him for being unsure of the icy temperatures.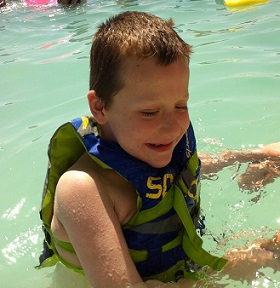 I had to listen to his loud protests and the skeptical looks of spectators as I forced him to adjust to the cold water. I'm sure I looked pretty mean at first, but as soon as he got used to that water, he swam happily for an hour. His laughter quickly diminished the earlier uneasiness felt by me and my company. Nobody could've argued with my seemingly brutal approach once his pure joy for swimming was displayed.
Third, my daughters set-up a really cool fort in our living room with the help of their dad. When I suggested that Eddie have a fort, too, his sisters wanted to help. We set-up a two-man tent in the living room, and filled it with all of his favorite things. It was a cozy sensory room that he absolutely loves. The night we had a camp-out in the living room, Eddie was able to join us, which his sisters thought was fantastic.
So, for only being a week into summer, I think we've already had some success. Another parent of a child who is blind asked me how I handle the summers, and I didn't have a great answer. All I could say was that there are always good days and really bad days. But now I think with some differentiation at home, and a little creative thinking, we can have many more good days…and only a couple bad ones. Everybody has the right to a few bad days…even me…and even Eddie.