I was recently thinking about the variety of professionals that worked with Eddie over the years. Being an educator myself and reflecting on my own work, I was trying to remember what made some people stand out more than others. My conclusion was that those who had confidence in their decisions, optimism for Eddie, and high expectations were the ones that I trusted the most.
I realize that confidence can come with time, and not all of Eddie's providers had years of experience. Many have had no experience working with a kid who was blind. They admitted when they didn't know how to approach something or when they were just giving something a try. However, those that could admit ignorance with confidence and had some background knowledge justifying their choices, made a greater difference in our lives.
Optimism is crucial for us and for all parents I think. We receive so much negativity from doctors appointments, and every IEP meeting can feel like a laundry list of all the things our child can't do. When a teacher or therapist comes in and speaks to the future, excited about what they are going to do next with our kids, it breeds faith. Faith in them as guidance, and faith in our child to succeed.
High expectations seem obvious, but they aren't set high by everyone. We need those in our kid's life to think the most of him and to expect the most of him. I recently read work by Diane Wormsley, and she described the "intellectual climate" of a child. This idea that the place a child receives instruction and the people they receive it from can impact their learning. By providing an optimistic climate with high expectations, our children do better and achieve more.
I feel these three ingredients are crucial for everyone working with our kids…including us. That's right, I'm holding parents to these same standards. Our children know when we're anxious, unsure, and setting a low bar. We must try not to let them see us that way because it isn't the best version of ourselves, and we're not envisioning the best version of them.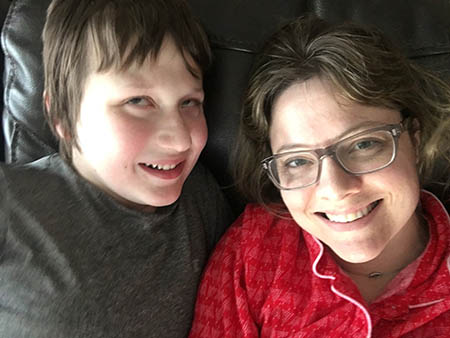 There are days when we will set lower expectations, as demonstrated in this picture of Eddie and I having a Pajama Day. The bar in our house was very low that day…for Eddie and for me. However, it's not the norm. This is why I don't wear pajamas to work, and he doesn't wear them to school. When pushing towards our goals, we strive to expect more from ourselves, from our kids, and from their providers. Because we all can…which I say with complete confidence.
More on "Raising a Child Who Is Blind"
Pros and Cons of Labeling Our Kids Who Are Blind or Visually Impaired
Marriage and Raising a Child Who Is Blind
Pushing Limits and Stepping Back