As a parent of a child who is blind, and as a teacher of the visually impaired, I try hard every day to disprove myths about blindness. I talk tirelessly to educators, peers, and other parents about all of the things people who are visually impaired CAN do, which is pretty much everything. I encourage all of my students to be independent, and push my son, too. However, I still keep saying that ugly word…"can't."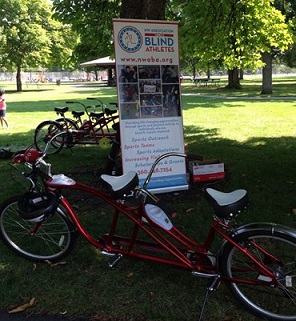 This weekend, I spent time working with students who are visually impaired, and introducing them to a variety of recreational opportunities including using the tandem bikes pictured here from the NW Association for Blind Athletes. The camp was for children who lived in our region, ages 9-13. My son happens to fit that demographic, and yet I didn't feel comfortable having him attend.
It isn't the visual impairment that kept him home, but his additional disabilities. He does have an orthopedic impairment, which makes physical activities challenging. He also has Autism, and is prone to outbursts. A recreational camp just sounded like it would be too much for him.
Even though he didn't attend, I still talked about him a lot. I explained to the other parents that I also had a child who was blind, but that he wasn't prepared for this kind of camp. I went on to explain his multiple disabilities, and even after the introduction found myself bringing Eddie up frequently.
I heard myself saying, "Eddie can't play beep kickball." "He can't ride a tandem bike." "He can't understand board games." "He can't sing along with karaoke." By the end of the weekend, I was beginning to see a pattern, and a little bit of disappointment in myself.
I don't regret not having him attend. I truly feel he wasn't ready for this type of event. However, that doesn't mean he can't be ready someday. I need to rephrase all of those icky "can't" statements and instead say things like…
"He can ride a tandem bike…if it's adapted for him."
"He can play board games…if he is taught in a meaningful way."
"He can play beep kickball…if I provide support as needed."
Recreation is so important for our children who are visually impaired. They don't always find hobbies and sports on their own, and we may have to lead them to it. The kids I taught at camp this weekend picked everything up fast, and it's just going to take more time for Eddie. I do know that just because something takes time, certainly doesn't mean he "can't" do it. I also know that I can help him find a way.