It has been an extremely busy end to the school year. Meetings with my son's school, end-of-year programs, and additional family activities have kept us running. Of all that's been going on, the greatest time was had at the Montana School for the Deaf and Blind a couple weeks ago. We had the opportunity to attend a fantastic event. All five of us made the trip, along with my sister.
In the past, we lived in Montana, and regularly attended the Family Learning Weekend, which was open to families within the state that were raising a child who was visually impaired. They provided hours of training for parents, and time to visit with families just like ours. During that time, our kids were kept extremely busy.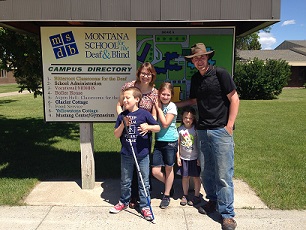 The children were split up by age group, and siblings were included. They enjoyed swimming, beep baseball, a "jump house" for the younger kids, childcare in the nursery for the infants and toddlers, movies, games, and more. I don't even have to say that my kids enjoy this event EVERY time we've attended…and beg to go back every year.
Upon leaving Montana three years ago, we were really upset about losing access to this event. While our children were busy enjoying time tailored for them, we had time just for the adults, and that was always needed. Luckily, I was invited to return to give a presentation. Of course I agreed, with my only request being that my family could attend as participants for the rest of the weekend.
What I learned this time around, is that there is always information to be gained when I'm with other families raising a child with a visual impairment. Even though my son is nine, I have SO much still to learn. I was amazed at the power in a room full of parents; the support, the combined knowledge, and shared resources. That kind of networking simply can't be beat.
In reality, many of us live in isolation, as I've discussed before. We simply can't all attend a "Family Learning Weekend" or be amidst those that we can relate to daily. That is why I continue to promote and write for FamilyConnect. It is an online resource that is available twenty-four hours a day, seven days a week. Therefore, it's always here when we need it.
In signing off today, I want to specifically thank the families we spent the weekend with in Montana. Thank you for sharing your own experiences, for validating mine, and for simply being a part of this extremely unique club. You made an impact on me, and I hope I did the same for you.