Last month, my book club read "The Rosie Project" by Graeme Simsion. In short, it's the story of an adult man seeking a wife. A man who presents as autistic and struggles with social connections. There is a scene in the book where he is considering a relationship and wondering if he will find "satisfaction." The author wrote, "Another world, another life, proximate but inaccessible."
As I read that sentence, I instantly related it to Eddie; partially because he is autistic, but also because he is blind. This character in the book is wanting happiness, connectedness, and relationships like other people. Knowing that he sees it happen every day, going on all around him, and yet, he is unable to access it himself. Just like Eddie.
I jokingly call Eddie a "lingerer" because he likes to be around people; he seeks us out, but then he just…lingers. It's like he is proximate to us at all times, but our world is inaccessible. There are moments where he joins right in an activity or a game. But it's always because he knows the routine. He knows what is expected, what is going to happen, and how he is going to enjoy it.
He knows when Dad yells, "Let's get Mom!" that all the kids will now try to tackle and tickle me until I'm screaming for mercy. He knows that if his sister, CC, starts wadding up newspapers, we're going to start throwing them at each other all over the house. He knows that if I'm playing the piano, he's welcome to sit down and join me, and I always love the company. He knows because we've shown him.
For Eddie, accessing an inaccessible world is left entirely up to those who surround him. It's up to his teachers, his parents, his siblings, and his peers. It's up to his community to make sure he isn't left out and to include him in our world. He will always be in our proximity, but proximity alone isn't good enough.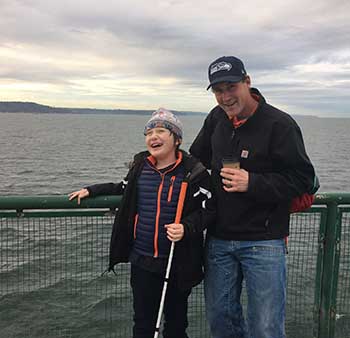 For children who are blind, we need to find ways to help them access the lives they want. To teach them how to carry on relationships, so they have choices and ultimately satisfaction. I've often said I don't know exactly what I want for "Adult Eddie," but I know I don't want him to be lonely. We have to teach him how to access an inaccessible world because the alternative is simply not an option.
Resources for Your Blind or Visually Impaired Child
Multiple Disabilities: When a Blind Child Has Other Disabilities
Family Life When Your Child Has Multiple Disabilities
Parent's Perspective: Becoming Part of the Community