I was excited to visit the American Foundation for the Blind (AFB) office in New York City last week. I knew that I would get to speak with many AFB employees and find out about their current projects and future endeavors within the field of blindness. What I didn't realize, was that I would get to have a moment with Helen Keller.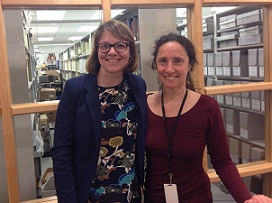 What may not be well known, is that AFB is home to the Helen Keller Archives. There is a very enthusiastic archivist also by the name of Helen (seen in this photo with me) who takes care of all the precious items and helps the public see Helen for the woman she was instead of only as the little girl at the water pump. Many know the story of Helen and her teacher, Anne Sullivan, but not quite as many are aware of the impact Helen made as an adult.
For example, I had no idea that Helen Keller wrote to Adolf Hitler when she learned he was burning her books. Helen wrote, "You can burn my books and the books of the best minds in Europe, but the ideas in them have seeped through a million channels, and will continue to quicken other minds." Other historical artifacts demonstrated that Helen also firmly believed in a woman's right to vote, and equality for all.
It feels too obvious to quote Helen Keller when referring to people with disabilities and the work being done in the field of blindness. However, there are very few authors that inspire me within a sentence or two the way Helen does. Many say that she was a "genius," but Helen the Archivist reminded me that above all else Helen Keller worked very hard. She changed the negative perceptions surrounding people with disabilities through simply being herself…and by seemingly spending every day of her life on a mission to do the right thing.
Helen said, "The power of effecting changes for the better is within ourselves, not in the favorableness of circumstances." When you first realize you have a child who is blind, I don't think anyone finds the idea of parenting them to be easy or "favorable." That doesn't mean that I shouldn't speak up for my son…or have low expectations because it is too hard. Helen Keller reminds me in her wisdom that "hard" isn't an excuse.
Doing the right thing is a simple choice…even when it is difficult. If you're interested in reading more of Helen's quotes I recommend you get "To Love This Life" printed by AFB Press. Her insight is applicable to our children who are blind…but also to us as their parents. To prove the point that she speaks to us all, I'll leave you with a quote that says what I often feel raising a child with special needs:
"Sometimes a sense of isolation enfolds me like a mist. But I no longer feel I stand alone…So much has been given me I have no time to ponder over that which has been denied." Helen Keller, June 1960