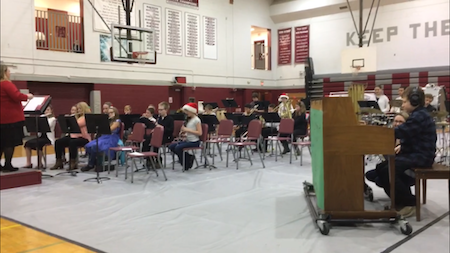 Eddie is participating in middle school band this year. As a sixth grader, it's the year they are learning musical instruments, and this matches his skill level. He is able to play the melody of most tunes on the piano by ear and spends much of his free time tinkering.
We knew integrating him into band wouldn't be easy because he isn't a huge fan of playing along with others. He prefers his own musical talents, and when others try to join him, they are quickly excused. When sitting down next to him on the piano bench, I usually get a light push and the familiar comment, "Bye, Mom."
Regardless of his personal playing preferences, Eddie has been in band all year. We knew we'd really learn how it was going when we attended the holiday concert. We were told weeks in advance what songs would be performed, and we could hear Eddie playing them at home. "Dreidel, Dreidel, Dreidel" became daily background music.
To our surprise, when we arrived at the concert, we found him listed as one of many soloists for that song. This quickly explained his nerves. I have never seen Eddie so nervous. Once we sat down in the bleachers of the gym, he immediately asked to go to the bathroom. (One of his "go-tos" for escaping.)
After he returned from the restroom, he sat down and tried to escape again. He grabbed his cane, unfolded it, and stated, "Time for bed," while trying to stand up. This led to many desperate attempts to exit the building. Luckily, once the choir started up (they were on first), he quickly calmed.
When it was the band's turn, a dedicated paraprofessional approached Eddie and led him to the piano. She gently encouraged him and stayed by his side. When it was his turn to solo, he started off well, and then tapered off. She helped him get through the song so the other kids could pick up where he left off. We all knew he could play that song easily on his own, but as Eddie always does, he decided to "mix it up."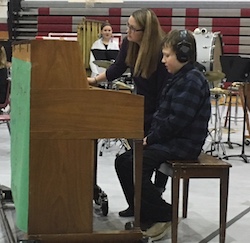 Eddie did great. Instead of sitting in the bleachers or on the couch at home while his class put on an event for the community, he was able to participate. I know this was due to the efforts of many. The band teacher who gave him a chance and keeps doing so. The paraprofessional who sits through sixth-grade band every day… seriously… she deserves an award. Finally, for the students that support Eddie's involvement and patiently waited for him to complete his solo… in his own way.
Our goals for this night were participation… no public outbursts… and peer engagement. Check. Check. Check. When done, Eddie sat down with us again and enjoyed the rest of the concert. His nerves (and mine) were quickly extinguished. That's the sign of support. Knowing that his peers (and mine) accept us as we are and continue to encourage his success.
More from "Raising a Child Who Is Blind and…"
Proximity Does Not Equal Participation
The Importance of Relationships