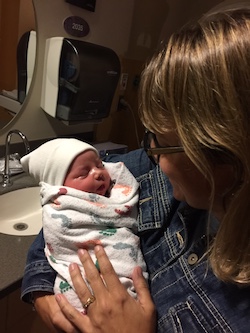 Recently, I became an aunt again. My sister added an adorable little fella to her growing family. Being a sister to the pregnant lady, I spent much of her labor hanging out in the waiting room at our local hospital's maternity ward. Although my sister was in the delivery room the day Eddie was born, she had plenty of help this time around and didn't need me right by her side. So, I patiently waited with the grandparents.
I drank enough coffee to fuel an airliner, knitted the bulk of a sweater-vest I'd been working on, and simply watched. I watched pregnant women parade in and out as they were transported to delivery rooms. I watched family and friends pace, laugh, and enjoy each other's company as they awaited news of a successful delivery. I watched multiple small children killing time with caregivers with anticipation of a new addition to their immediate family.
All of this waiting and watching was very nostalgic. I thought to the delivery of each of my three kids. I remembered the loved ones that crowded the waiting rooms… and longed for the ones that have passed since then. I remembered the joy, excitement, pain, and fear that came with each delivery and the moment of sheer bliss that followed. Although I was happy to not be in labor myself that day, I was jealous of the precious newborns each of these new moms would soon hold in their arms.
For those of us that have given birth to children with special needs, you know that there was something else on my mind too. I wondered if any of these families would be met with a surprise. Would they find themselves in the hospital longer than the standard 24 to 48 hours? Would their baby spend time in a Neonatal Intensive Care Unit (NICU)? Would their planned future dissipate in a matter of moments?
As we know, most of the time, the above questions are never considered because all goes well, as it did with my nephew. He's amazing, and I can't wait for all the time I get to spend spoiling him. But for some of us, our life does get turned upside down on delivery day or soon after. The future we expected… planned… prepared for is gone, and we are left trying to figure out what that means and what to do next.
I listened to families share news of healthy births. Smiling faces, balloons, flowers, hugs, and the common phrase that these babies had "ten fingers and ten toes." I wanted to shout, "It'll be OK if they don't!" Perfection is relative.
Many would fear the birth of a child like Eddie. I don't blame them because they don't know what they don't know. They don't know that Eddie is perfect. He's perfectly Eddie, and the perspective and dimension he's brought to my life and family are beyond what I'd have ever imagined. I don't know if any of the families I watched that day will experience raising a child like Eddie, but I know they'll be OK if they do… and their lives can still be perfect.
Raising a Child Who Is Blind with Multiple Disabilities
How Edward Came into the World
Tears, Language Delays, and Seeking an Answer