Having a child with special needs can wreak havoc on your social life. Invites may come in for parties or more and the energy it takes to attend is sometimes too much. We often beg forgiveness from our friends when we turn down invitations, but fostering our friendships is important. Instead of always saying no, I've found some ways to make a new outing more enjoyable for us and Eddie.
Not long ago, I took the kids to a friend's house for a dinner party. My husband was elsewhere, so I knew it would just be me and our three kiddos. From the moment I told Eddie we were going to a party, he just kept saying, "No. No Party." Because he can become fixated, I heard "No Party" for almost the whole 20 minutes it took to get there.
When we arrived, I spent the first half hour making sure Eddie was going to be content. I knew that if he was settled, I'd be able to enjoy the social event, and so would his sisters. If he became too nervous or bored, his behavior would ruin everyone's time, including his. When expectations aren't set, or he doesn't know what's going to happen next, his anxiety gets the best of him.
Helpful Tips for Taking Eddie Somewhere New
To settle him in, I utilized these three steps:
Oriented him to the location. I walked him around and into all of the rooms that he was allowed to visit. We found all the stairs, and I guided him up and down stair cases. We talked about the rooms with closed doors and how he wasn't allowed to enter. Most importantly, I showed him where to find the bathroom.

Found a quiet space for any needed "time-outs." I asked our host if this space could be in her bedroom, and she quickly agreed. I let him know he could go in and close the door. I showed him the bed and let him try it out, so he had a place to lay down and just be alone if he needed a break at any time.

Showed him some preferred activities. Eddie loves to be on the move, and this involves going up and down stairs. After finding the stairs with him, I made sure he could safely maneuver them independently. He also loves to rock, and there was a rocking chair he spent most of the night in after he was shown where to find it. Sometimes I even bring the hammock (shown in this picture below) just in case we need it. Music is another favorite, and we brought his tablet so he could enjoy his tunes.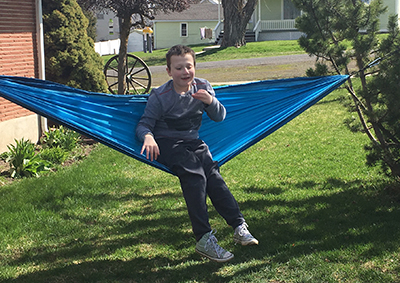 After a little time dedicated to lowering Eddie's anxiety, we had a great evening. We were able to visit with friends, enjoy dinner, and relax—this was true for all of us, even Eddie. We talk about pre-teaching at school, so kids know what to expect, but we also have to take time to teach in the real world.
By simply making sure Eddie's needs were met from the beginning, he could enjoy an unpredictable night out as much as the rest of us. The adults aren't the only ones that need to get out once in awhile; Eddie and his sisters do too. An added bonus is that every new outing provides a learning opportunity, and we never want to miss out on those.
More from "Raising a Child Who Is Blind"
How Edward Came into the World
Gaming Day with Students Who Are Visually Impaired
Accessing an Inaccessible World