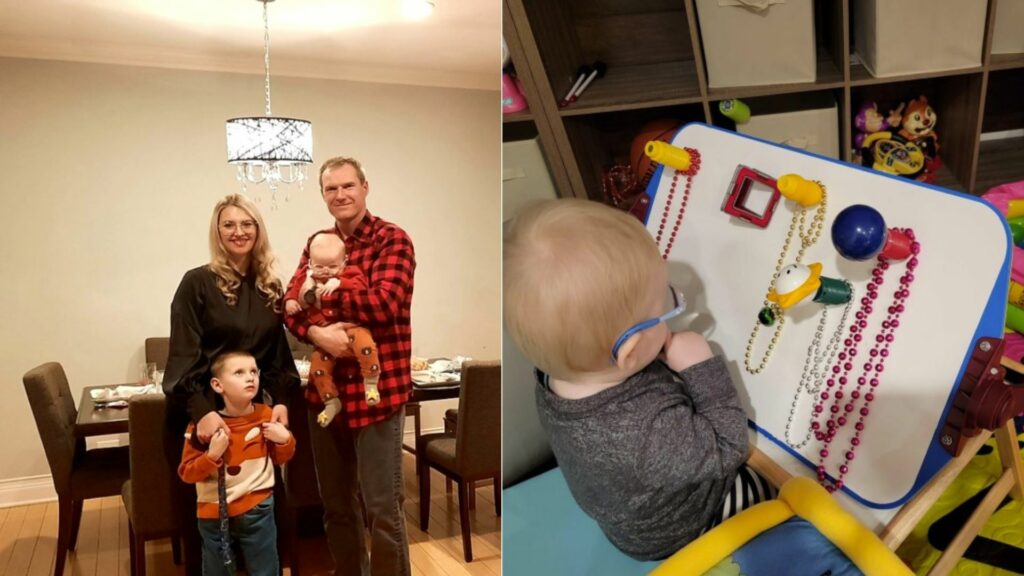 My name is Dovile, and I am a mother of two incredible boys, Jacob (6) and Dominic (1). Jacob is our music lover; he fills our house with music and can't imagine his day without the keyboard. Dominic is our explorer; he loves toys, books, and all sensory play! They both were born with LCA (Leber Congenital Amaurosis), mutation Cep 290. They both have light perception (reaction to the light), and we still haven't figured out if Dominic has more than light perception; it's still under investigation by us, parents.
These two boys are my best teachers as we venture on this curvy, sometimes bumpy, but very interesting road! I am a big fan of adapting or even making toys, books, and other things in our house to help the boys learn, be able to use things, be independent, and thrive. I would love to share a few things we made or adapted with our one-year-old.
Books
I think books play a very important role in a child's development. They expand vocabulary, help to create a bond with loved ones, and books are very important for pre-braille skills and fine motor skills, etc. We have books everywhere; my boys love touch-and-feel books and books with sounds. They love listening when I read to them too.
Here are a few examples of how I adapted books (see Pictures 1 and 2). On a sound book I glued different textured fabric and matched the same fabric with the page that has the same story/music/sound. My son would explore the texture; he understood that different buttons represent different music, story, or sound. When he is older, we will try matching textures on the page.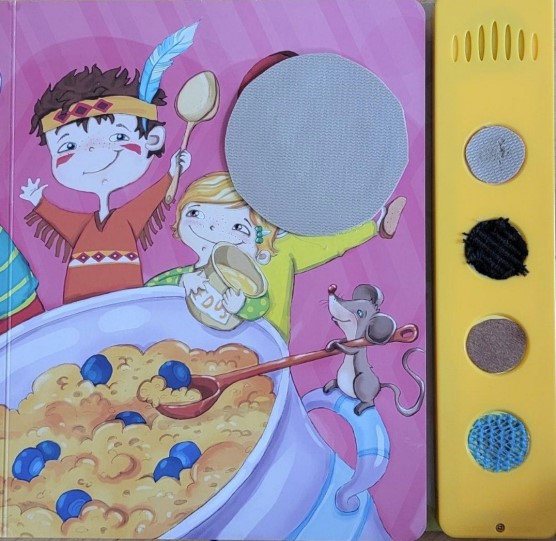 On the books which don't have any tactile information, I glue fabrics, textured paper, or some other tactile piece to make it more interesting.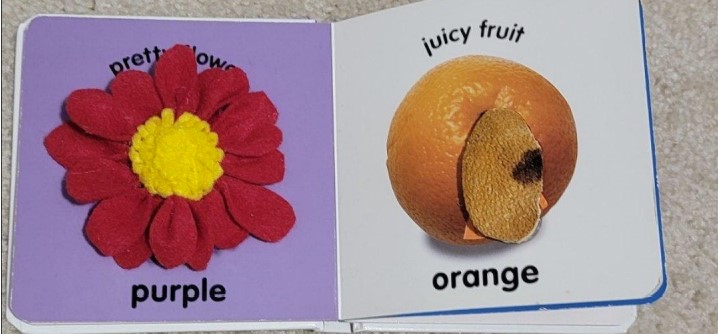 Some books are very easy to adapt by using the real objects of the story. This gives a lot of information to the child and helps to develop a better vocabulary. I keep objects in a zip lock bag or in the box together with the book (See Picture 3).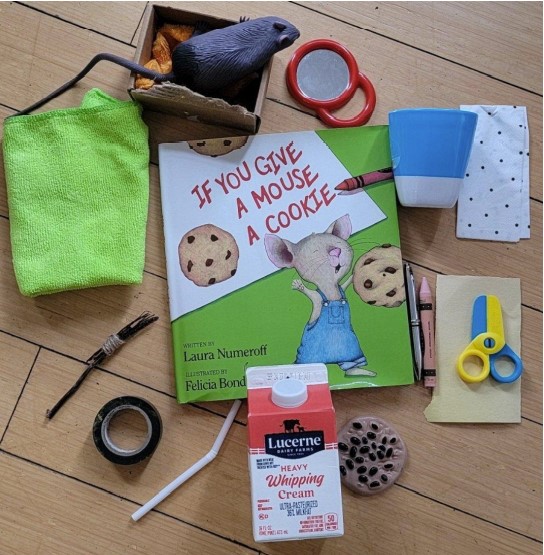 Play
I started to play with my kids when they were just born. I would sing, dance, massage, and I would use silk scarfs, different fabrics, and feathers to touch newborn legs, feet, arms, belly, back, and face.
We play in every corner of our house. When we move to the different spaces I would name the space, so my child would start to understand where we are and that there are more spaces than the main ones: bedroom or kitchen. I used to think that I needed to buy all the toys, special equipment, etc. But with my second child, I realized that there are so many things parents can make and there isn't a need to buy everything.
Dominic loves containers: metal bowls, baking tins, baking sheets, muffin pans, plastic containers, etc. You can put anything in these like all sorts of balls (see Picture 4) or egg shakers (see Picture 5) (made by putting different grains in plastic eggs and taping them closed), blocks, kitchen items (see Picture 6) (such as a spatula, spoon, and other safe kitchen items). During the summer I used to pour some water into the baking tin and add flowers (see Picture 7). You can put ice cubes, large pasta, or even real fruits and veggies.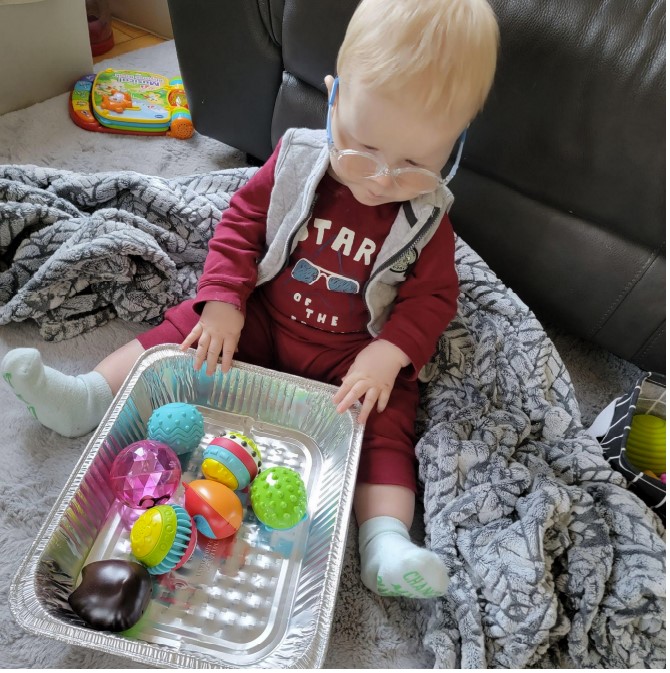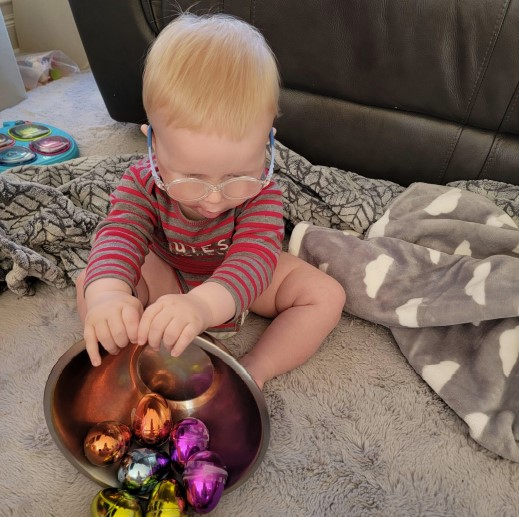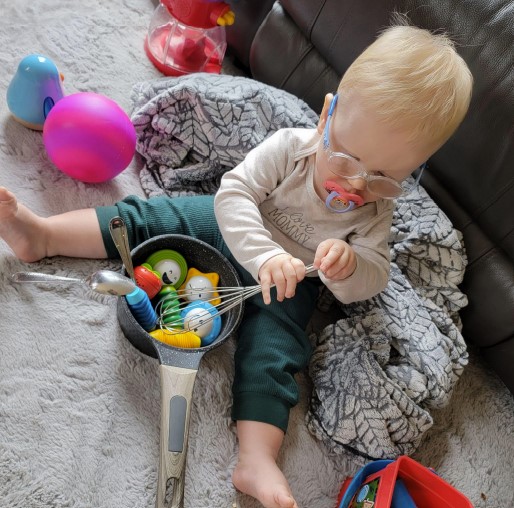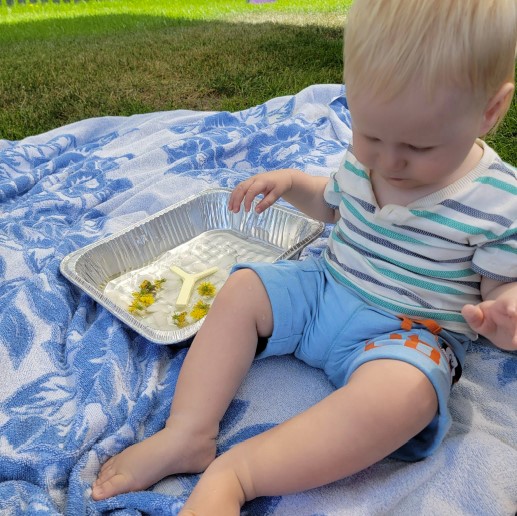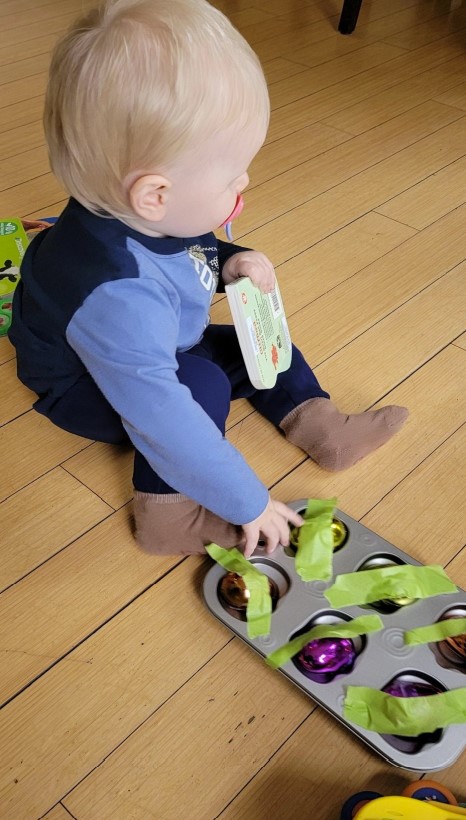 While Dominic didn't crawl and still wanted to be next to us, we used to sit him in the diaper box next to us (see Picture 9). I made holes on the sides and strung some beads, and I hung the bells so he would be entertained. You can use a laundry basket instead.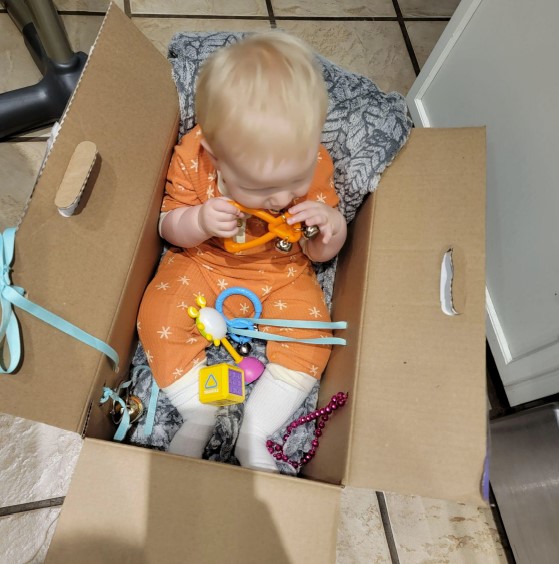 Play with Lights
If you have a light box, you can place different items on the light box. For example, you can affix balls (see Picture 10) on the light box using tape or double-sided tape. You can use blocks or shapes (you can cut cardboard shapes and glue some different textures and colors on them). You can place water beads or hair gel and pom poms in the zip lock bag and use it on the light box. You can also use real objects like a spoon, spatula, comb, etc. If you don't have a light box, you can make one (see Picture 11). You need a clear plastic box and LED Christmas lights. Just make sure to keep an eye on it while in use, and don't leave it on as it can overheat.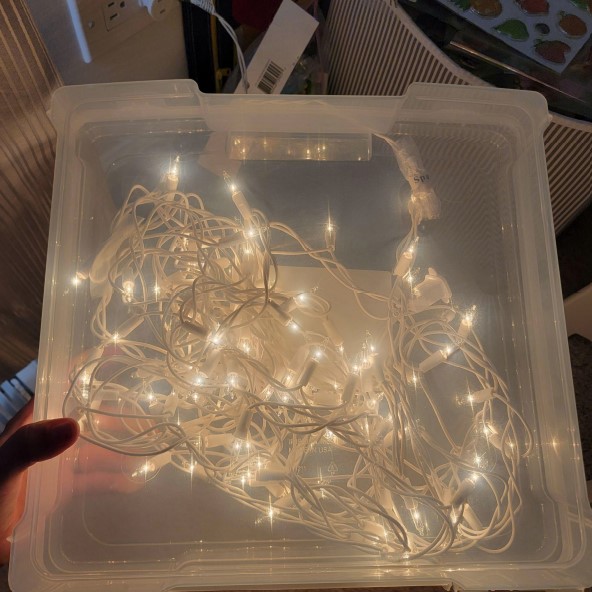 APH All-In-One Board
We were lucky that our TVI lent us an APH All-In-One Board. I like that it has two sides. One of the sides is black felt and the other is a white magnet board. In the picture, Dominic is sitting in front of the All-In-One board and is playing with magnet toys, Magna tiles, magnet shakers, bells, and beads (see Picture 12).
We use a bed tray to keep the board higher. It's easier for Dominic to use his remaining vision, and he can sit nicer and work on reaching. The other picture shows Dominic playing with the felt side of the APH All-In-One Board (see Picture 13). We put Velcro on the high-contrast shapes and shiny paper, and we stick them on the board. Also, we use plastic eggs and put some Velcro on them too.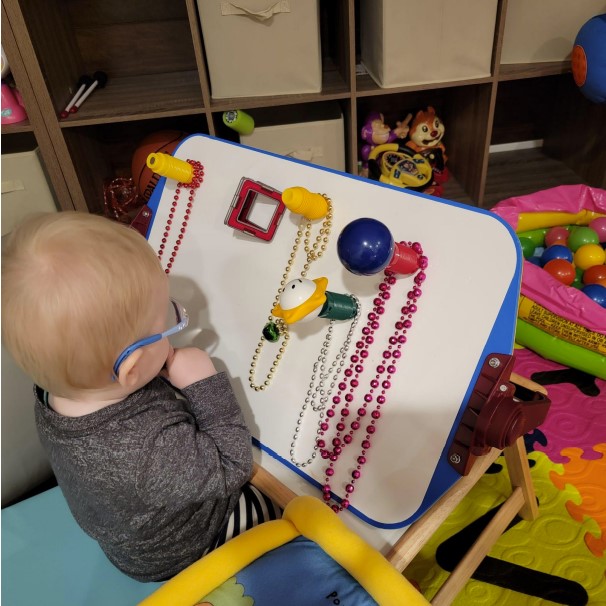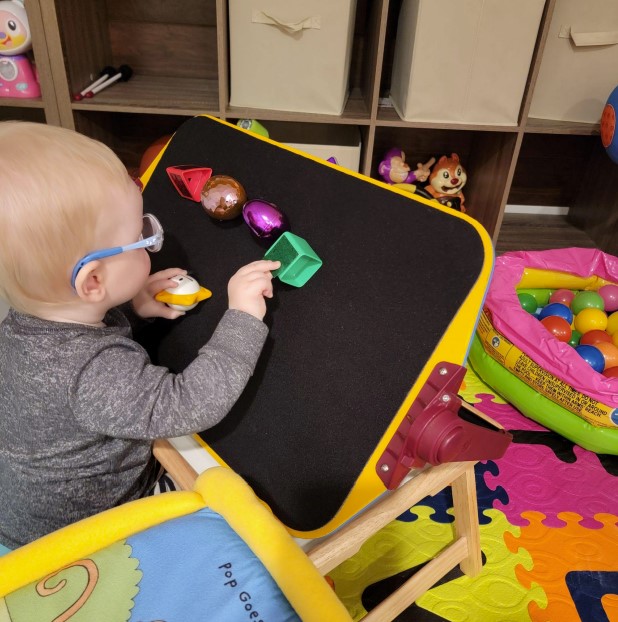 If you don't have access to the APH board, you can make a felt board on your own. You would need cardboard and black felt. I use a hot glue gun to glue felt to the cardboard. And if you want the magnet board, you can find an office magnet board at the store. You can make a sensory board by gluing different textures: shiny paper, different fabrics, sandpaper, ribbon, Velcro, paper circles bent in half and one-half glued to the board, etc. (see Picture 14).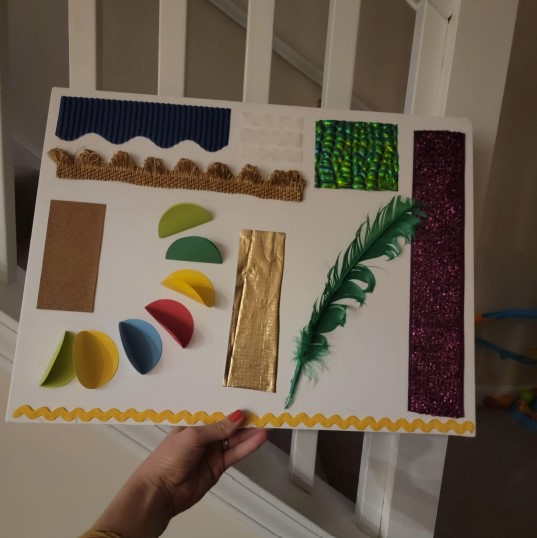 You also can make sensory tiles. On my sensory tiles I glued buttons, feathers, cinnamon sticks, hot glue gun dots, etc. (see Picture 15).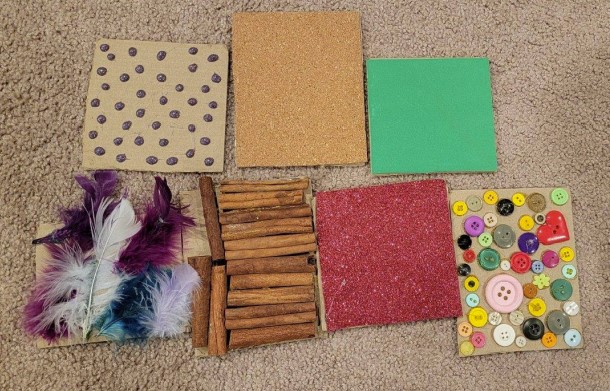 Sensory Boxes
Sensory boxes are the best thing! I love making them, and my kids love them too! I usually make one for each season or holiday (see Pictures 16,17, and18). So, we have one for spring, winter, summer, fall, Easter, Christmas, Halloween, etc.
I have a few without a theme like a box with kinetic sand and with water beads. Those sensory boxes are easy to make; for older children, you can use any grain such as rice, corn, beans, lentils, pebbles, etc. I usually go to the dollar store to find theme-related toys or objects, or find real objects in our home. Walmart, Dollar General, CVS, a marketplace or second-hand stores are also good places to look for things you need.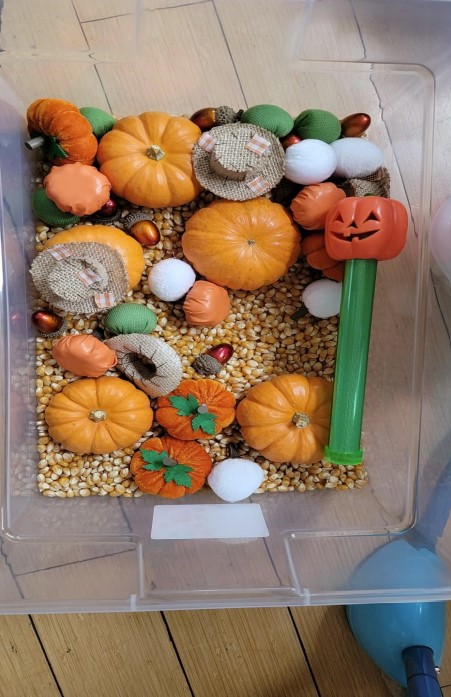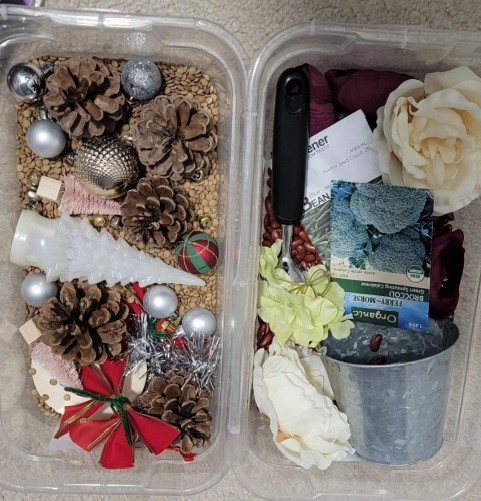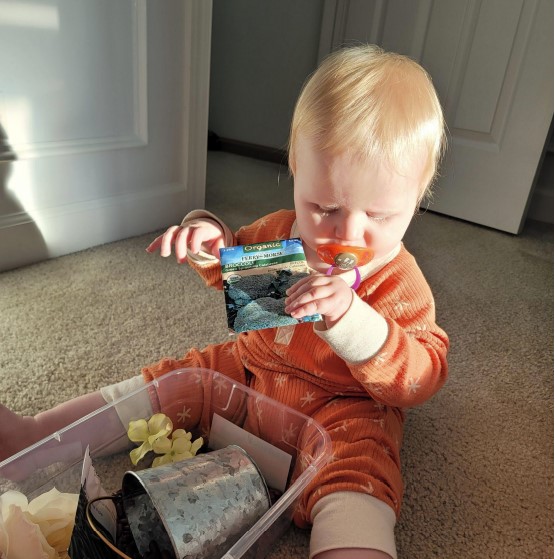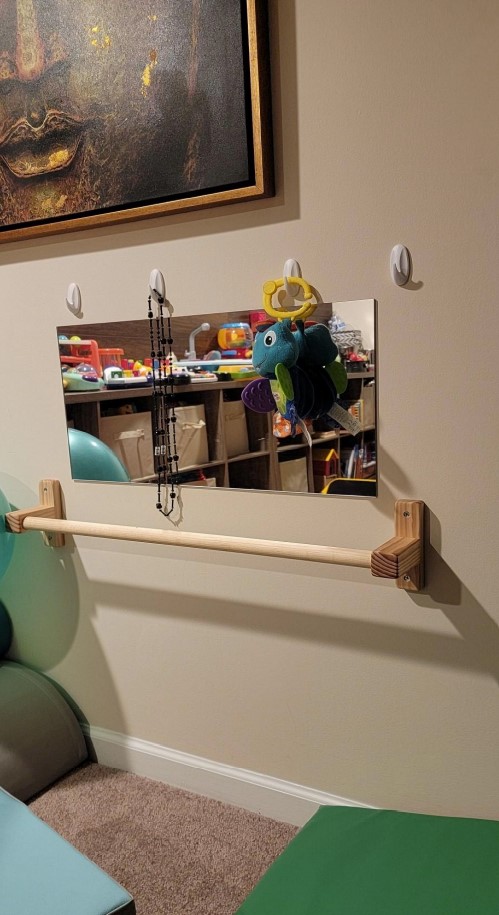 I hope you found my ideas interesting and helpful. Best wishes from our family.
Learn more: