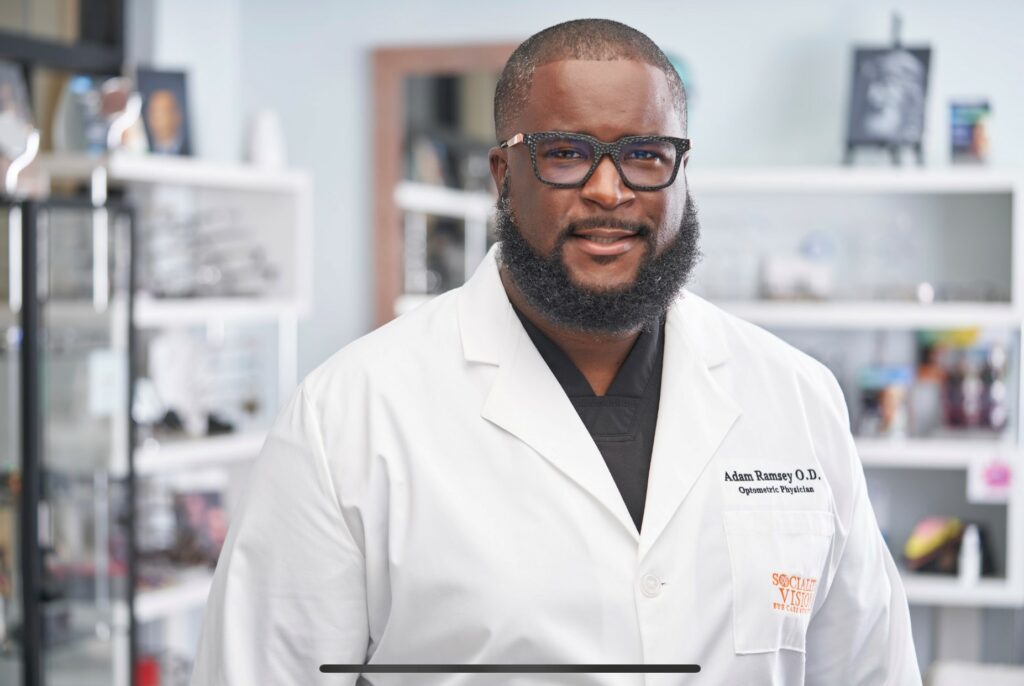 "I wore glasses from the age I was five, but I don't think that made me want to be an optometrist," says Dr. Adam Ramsey – Owner & Optometrist at Socialite Vision and Co-founder of Black Eyecare Perspective. "When I was young, I visited more than twenty eye doctors, and not one asked me if I wanted to be an optometrist or even put the thought in my head. Not one extended an olive branch. That experience has encouraged me to ensure I am extending olive branches to students."
Extending an olive branch to both potential students and current patients is the foundation for Dr. Ramsey's Palm Beach Gardens, Florida-based practice, Socialite Vision, and his non-profit, Black Eyecare Perspective.
"People don't care what you know until they know you care," he says. When patients visit his practice, Dr. Ramsey aims to learn about the wants and cares of each patient before prescribing a solution. While his specialty is eyecare, he knows that his abilities as an optometrist can only go so far. In fact, he says it is important to see the bigger picture, and sometimes it isn't just about eye care. "Let technology bridge the gap and meet you in the middle," he says.
Meeting the Needs of Patients
"Some patients come for an eye exam, and leave with a technology lesson," says Dr. Ramsey. "If the patient can't see the phone, I can change the glasses to allow him or her to see the phone, or I can make the text larger on the phone."
Dr. Ramsey touts that every patient visit is personalized to the wants and needs of the individual; no two patients receive the same exam. He says it is important to make a connection with each patient. He begins each appointment by asking various questions, including: "What do you care about? What do you want to do that you cannot do now? What is going on in your world?" These questions are intended to figure out what matters most to each person.
"I had a grandmother once tell me, 'I just want to see my grandkids. I can't put my grandkids under a magnifier,'" says Dr. Ramsey. "I had another woman say she wants to read her books and do crossword puzzles. She wants to be able to see to do just that," he says.
The needs of patients run the full spectrum of difficulty and visual needs.
Dr. Ramsey's ultimate goal is for people to say their life was better because they came to visit him. He wants people to be happy to come to his practice and not dread the experience.
Volunteering
Not only does Dr. Ramsey focus his practice on being different and more personalized than others, he also focuses his time and energy on many volunteer opportunities. In fact, he is the Co-Founder of Black Eyecare Perspective, a nonprofit organization designed to cultivate lifelong relationships between Black Americans and the eye care industry, as well as create opportunities for students interested in optometry.
Its specific goals are defined:
Create a pipeline for Black students into Optometry
Connect communities with Black eye care professionals and Black eye care businesses (Check out their Black Eye Doctor Locator.)
Cultivate relationships between Black Doctors of Optometry and opportunities in the eye care industry
"One of the events our Nonprofit held that I am most proud of hosting is called Dinner in the Dark. We hold an event. Kids are blindfolded and have to eat as someone who is visually impaired. They have to eat, drink, and pour dressing on the salad," he says. "This event teaches kids to appreciate and better understand those who have visual impairments. Children get to learn the difference between apple juice and water (when they can't see the color of the beverage, or the label on a container). We also taught kids to put a finger in the glass when they poured water, so that they feel when the glass was full."
Hosting Dinner in the Dark, encouraging students to pursue optometry, and pushing care options for those with low vision outside the typical realm are all ways in which Dr. Ramsey is fulfilling his dream to help others who are blind/ low vision.
Advice
Dr. Ramsey encourages all readers to try various providers in your area. "If the first place you go doesn't fit, try somewhere else," he says. "You have to be your own advocate. The more educated you are about your condition, the better off you will be. Don't put everything on the doctor; you have to seek it!"
He also says, "Don't make your disability be your limitation. It is a part of you, but it is NOT you. Find ways to circumvent the limitations, so that it doesn't define your story. Don't allow the disability to be at the forefront of how people view you."
About Dr. Ramsey
Dr. Adam Ramsey graduated from the University of Florida and went on to Southern College of Optometry (SCO) where he obtained his Doctorate of Optometry. He is a sought-after optometrist for his care and dedication to helping each individual.
Optometrist in Palm Beach Gardens, FL | Socialite Vision
Website: Home – Black Eyecare Perspective
Learn more:
If your or your loved one's functional goals at school, home, or work, are impacted by low vision or blindness, the following specialists can provide services to qualified individuals: