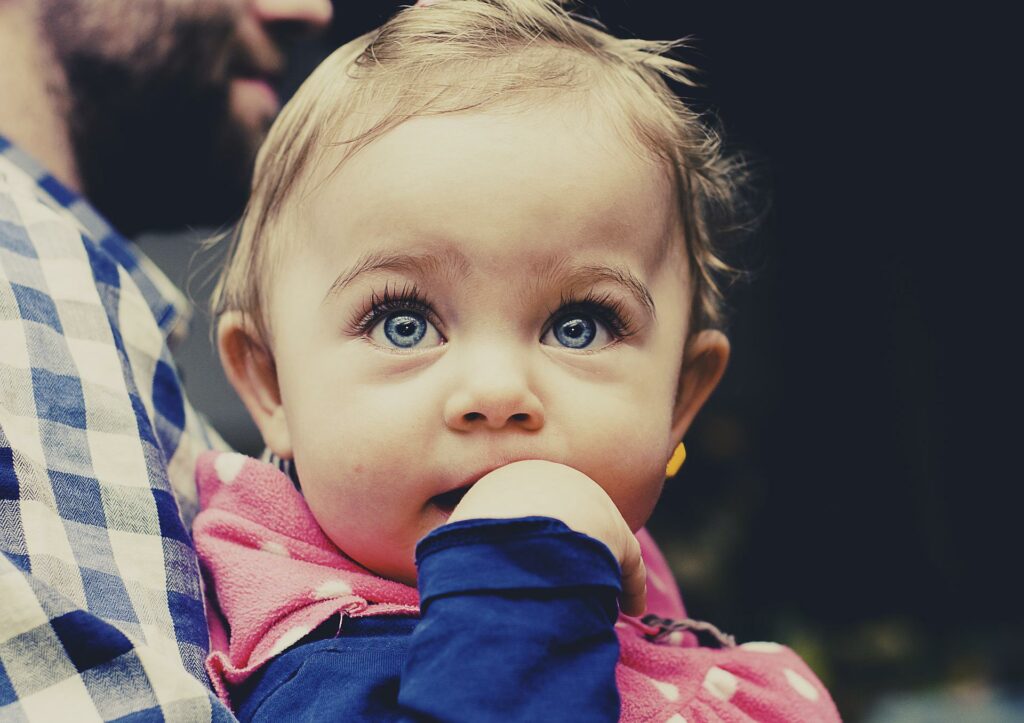 Most children get a basic vision screening in elementary school. But the founders of InfantSEE® realized that's just not early enough, or thorough enough, to identify some eye conditions that can impact a child's development and learning ability.
Glen Steele, O.D., FCOVD, FAAO, an optometrist based in Tennessee, co-founded InfantSEE with the late W. David Sullins. Steele and Sullins first had the idea in 1998, but it took until 2005 to launch InfantSEE, which is a public health program managed by Optometry Cares® – the AOA Foundation.
The team waited to launch the program until they had enough optometrists recruited nationwide who would provide no-cost comprehensive eye and vision assessments for infants 6-12 months old, regardless of a family's income or access to insurance coverage. The program's goal is to make sure that eye and vision care becomes an integral part of infant wellness care, to improve a child's quality of life.
Making a difference from the beginning
Once InfantSEE recruited enough optometrists – aiming to have one within 30 minutes of every family whenever possible – the organization launched on the TODAY Show in 2005. The program was announced by then-Chair Scott Jens, O.D., along with former President Jimmy Carter, InfantSEE's national honorary spokesperson.
"President Carter reported that he has two grandchildren with amblyopia, or lazy eye," Dr. Steele explains. "He said that should not have happened with the resources he has access to."
What's more, Dr. Steele says, a pregnant woman who was watching the show decided to take her baby to an InfantSEE member provider when she was six months old.
"The woman's mother told her that wasn't necessary, but she took her daughter anyway, and it was determined the baby had retinoblastoma, eye cancer, and nobody had recognized it before," Dr. Steele says. "They removed the eye and now she's a healthy 17-year-old. The mother left us a voicemail saying, 'Thank you for saving my daughter's life.'"
Recognizing the connection between vision and child development
InfantSEE now has a network of roughly 4,000 providers around the country. The program only counts the results of exams that providers report to them, but there have been 160,000 babies' exams reported since 2005 – and Dr. Steele says the number is undoubtedly higher. He says consistently 10% of all of the babies reported need some sort of follow-up.
Dr. Steele points out the critical role vision plays in development. "As I call it, 'look, attend, focus, identify, and engage,'" he explains. "If the infant has any issues – such as extreme amount of farsightedness or nearsightedness – the whole process of development is potentially compromised."
InfantSEE providers use specialized equipment and procedures that are not part of most vision exams. During an InfantSEE assessment, a doctor of optometry tests for extreme or unequal nearsightedness, farsightedness, astigmatism, eye movement ability, and eye health problems. This level of comprehensive care is essential for detecting issues early so babies have the chance to develop the visual abilities they need to grow and learn.
Dedication to children's eye health
After this initial, comprehensive exam for infants ages 6 to 12 months – which was expanded by InfantSEE to 18 months during COVID to allow for potential challenges in seeing an optometrist – the American Optometric Association recommends another screening at three years and before starting first grade, then every year after that.
Dr. Steele adds that despite the challenges doctors of all kinds have faced because of COVID – such as not being able to have as many patients in the same waiting room at one time or staffing shortages – InfantSEE member providers have continued to participate.
"This tells me the character of the providers in our profession," Dr. Steele says, "that they remain committed to our program.
It's easy for parents to search for an InfantSEE provider that offers no-cost vision assessments. The program's website has a search page parents can use to fill in their city, state, zip code, and the distance they're willing to travel. They can also search by a doctor's name. In addition, the website includes a page of information specifically for parents.
August is Children's Eye Health and Safety Month – making it a great time to find an InfantSEE provider or arrange for an older child's vision screening.
Learn more: