There is nothing like the sound of pounding keys on a Perkins Brailler or the buzz of excitement and nervous anxiety as you wait with your friends for one of your names to be read as the winner. There is nothing like standing together to promote a cause you believe in, and there is nothing like braille.
Braille gives people who are blind or low vision the ability to read and write, the ability to succeed both academically and professionally, and a voice with which to share opinions and experiences. Every year, students celebrate their braille skills by competing in the Braille Challenge, the only academic competition of its kind in North America for students who are blind or low vision. For eight years, I was lucky enough to be a contestant.
What is the Braille Challenge?
Created in 2000 to encourage participants to practice their braille literacy skills, the Braille Challenge is an academic competition for students grades 1 – 12 who are blind or low vision and who can read and write braille. Each year, over 1,200 contestants across the US, Canada, and UK compete in the challenge. During the preliminary and final rounds, students are tested on fundamental braille skills including reading comprehension, spelling, speed and accuracy, proofreading, and charts and graphs. The top 50 regional contestants travel to Los Angeles in June to compete in the final round for a chance to win exciting pieces of access technology, like refreshable braille displays, to support their education.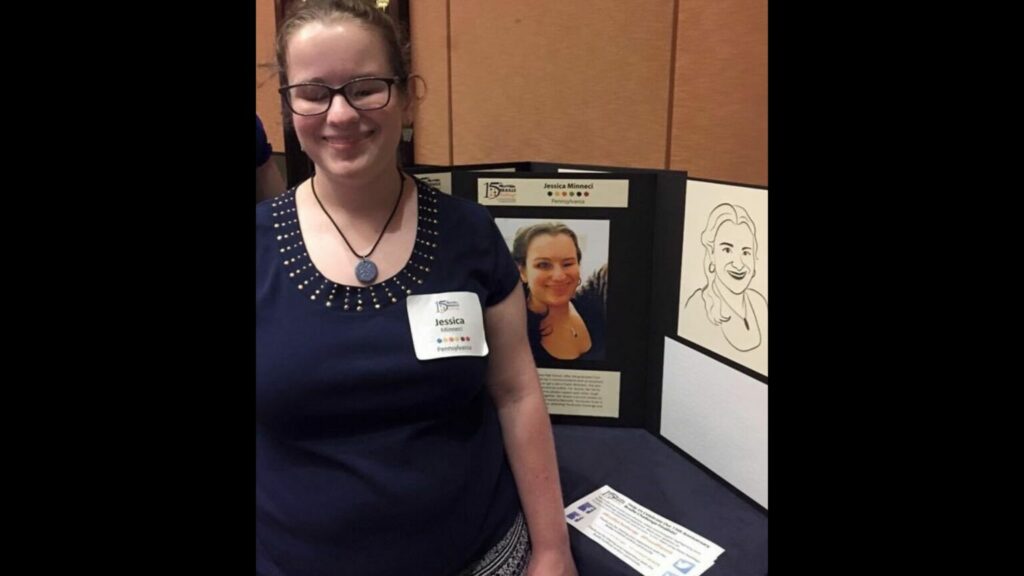 My Braille Challenge Journey
Competing in the Braille Challenge was an experience like no other. I participated in the regional round in Illinois from 2008-2011 at the Chicago Lighthouse. After I moved to Pennsylvania, I spent my high school years taking the Challenge with my Teacher of the Visually Impaired (TVI) proctoring my exams. In 2012, 2014, and 2015, I competed in the final round in Los Angeles.
Each year had the same agenda. I stayed at the Hilton Hotel and took the Challenge at the Braille Institute, where the students were greeted in the auditorium, where they would take the Braille Challenge oath, by the marching band from the University of Southern California (USC). Next, I joined my friends in the testing room, prepared to do my best. An award ceremony was held that evening, complete with a fancy dinner and celebrity guests. In 2014, the award ceremony was hosted by Atticus Shaffer, who played Brick Heck on the TV show The Middle, and Scott Innes, who voiced Scooby-Doo in several early 2000s video games, movies, and TV shows. Awards were announced by category with varsity, my category, going last. The anticipation in that room could be cut with a knife. I never placed nationally, but I got to cheer on my friends who did.
Although some things have changed since my time competing in the Challenge, the memories and friendships I made will never fade. The Braille Challenge gave me a love of competition, the mentality to have fun whether I win or lose, and my love of braille. Braille brought my friends and I together in a contest that changed the trajectory of my life and allowed me to be where I am today. Since I last competed in the Braille Challenge in 2015, I've earned a bachelor's degree in English Creative Writing, a minor in Communications, and a certificate in Genre Writing from Seton Hill University. I am a Communications Associate at the American Printing House for the Blind and am in grad school at Seton Hill, studying for my Master of Fine Arts in Writing Popular Fiction. The first draft of my first novel is complete. I would not have done all of this without braille.
Learn more about the Braille Challenge and sign your student or child up for a preliminary round today: Home – Braille Challenge Portal (brailleinstitute.org).