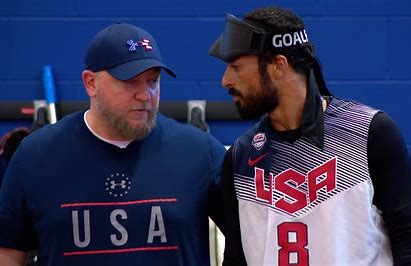 Coach Jake Czechowski has his eye on the prize. In fact, his entire team is focused on what would be the ultimate reward for their hard work: a gold medal in Paris at the 2024 Paralympics. What is interesting about Coach Jake is that as Head Coach of the United States Women's Goalball Team, and Resident Coach of the United State Men's Goalball team, he is actually focused on winning not just one… but two gold medals.
"There has not been a country to win double gold at a Paralympic Games since 1984," says Coach Jake. "That was Team USA (in 1984, who won both a Men's and Women's Paralympic Goalball Gold). My dream, and the dream of our entire coaching staff, is to double up in Paris. We will get our first chance to qualify for the Paris games this December."
What is Goalball?
Goalball is a sport that was specially designed for athletes who are blind or low vision and was invented in 1946 to help in the rehabilitation of blinded war veterans and was first played at the 1976 Paralympic games in Toronto.
The game of goalball involves two teams of three players who each defend a goal. All the players wear masks over their eyes so that all levels of blindness are equalized. Coach Jake says a goalball is about the same size as a basketball and is made of hard rubber.
"It weighs 1.25 kilograms and has two metal bells in it, which provide an auditory sound source for the players and audience," says Coach Jake. "Eight holes the size of a pencil eraser allow the sounds of the bells to project further. Because the ball is not pressurized, it does not bounce as easily as a basketball. I could keep going on, but I would normally just bring a ball and let you throw it."
If you did throw it, you would realize that it isn't quite as easy as it sounds, but Coach Jake has been involved with the sport of goalball since he first saw it.
How Did Coach Jake Get Involved in the Sport?
"I was introduced to ogalball in 2004 at a sports camp in Colorado Springs. It was there when I saw the Women's National Goalball team training and was hooked ever since," says Coach Jake.
Not only does Jake coach the Men's and Women's U.S. National Goalball Teams, his wife, Lisa, has been a member of the Women's Paralympic Goalball team since 1997. It is certainly more than a team sport; it is a family sport.
"My wife didn't try goalball until about a year after a local adaptive sports organization contacted her," he says. "Once she went and gave it a try, she was hooked. That was several years and several Paralympic medals ago, but she would be the first one to tell you that none of that would have been possible if she hadn't made the decision to go to that first practice."
Both his and his wife's decision to go to that first practice are what he believes started a passion, and he recommends anyone who is blind or low vision, or who has any disability, try various sports.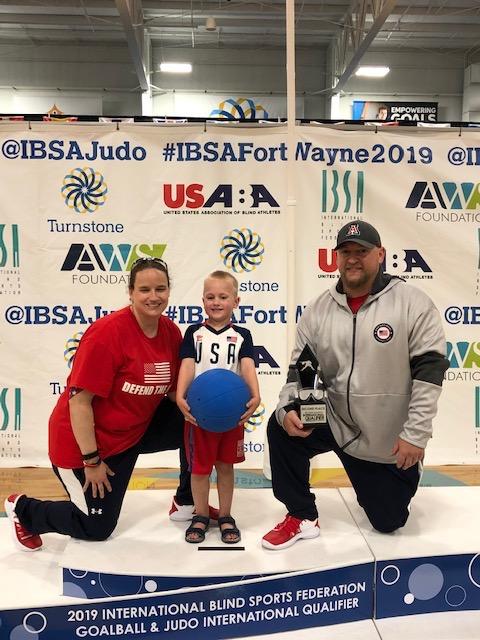 Coach Jake's Advice
"Go out and compete," he says. "Compete in anything you find interesting and be willing to try things that maybe don't sound so great." Jake says he knows many goalball athletes who were very reluctant to try the sport because of how it can be very difficult to understand until a person actually experiences it.
Coach Jake encourages trying both individual and team sports and for athletes to find what works for them. He felt comfortable and at home playing goalball and other team sports because he bonded with teammates and coaches who pushed him to be better.
"Growing up, team sports were a huge part of my life, and I am forever thankful to the coaches who supported and mentored me along the way," says Coach Jake. "I learned so many valuable life lessons during my time as an athlete, and I wanted to be able to provide that same opportunity to others."
Coach Jake's Thoughts on Coaching
Coach Jake says the only difference coaching athletes who are blind or low vision is, "I have really been able to improve my descriptive language skills. I never realized how poor my descriptive word choices were. Learning to eliminate non-descriptive language such as 'over here' or 'right there' helped to improve the effectiveness of my verbal communication. Athletes are athletes regardless of the sport, so the key is learning their preferred communication styles. I am very lucky to have been able to work with so many outstanding athletes, and I have learned so much from all of them. "
Coach Jake says coaching and encouraging athletes to achieve gold medal greatness isn't just about the physical element, as he embodies and coaches to his favorite phrases: "We Before Me, Be Comfortable Being Uncomfortable, and living up to the Gold Standard."
When asked what keeps him up at night, Coach Jake says: "My team doesn't keep me up. I know how hard they work. It's all of those other teams I stay up to watch. This is a very strong time for International Women's Goalball, so we do not take any of our competitors lightly. We have many wonderful friendships in the international goalball community, but when we are on the court, they get after us, and we get after them!"
Coach Jake truly enjoys that goalball is for everyone, regardless of ability. He says, "It is so awesome to see families and friends playing sports together, and goalball does that in a truly inclusive environment."
Learn more: