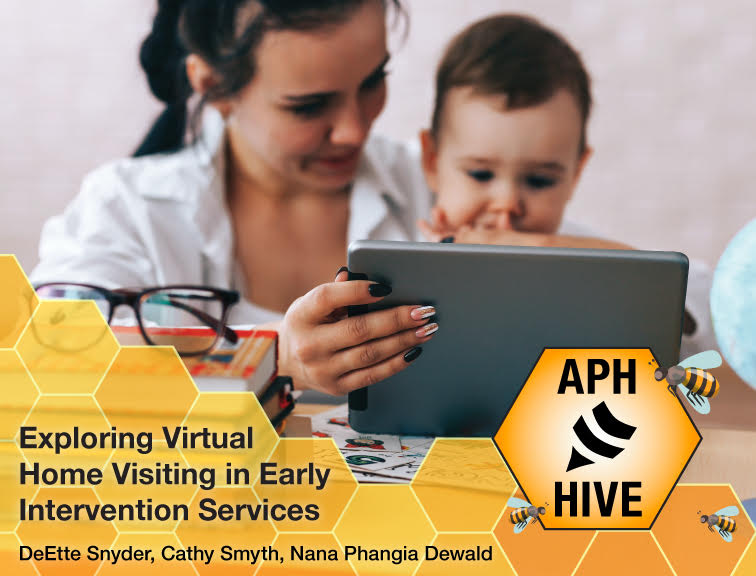 Your young child who is blind or low vision likely has a variety of early intervention services supporting their specific needs. As service-providing agencies find themselves with fewer providers, especially in rural areas, many are offering virtual services. Some agencies are offering a hybrid of both in-person and virtual services, which has its own set of benefits and barriers. Would you like to learn more about virtual early intervention services, including how to get the most out of the service delivery model?
The APH Hive
The APH Hive offers training to support families and professionals who are exploring virtual early intervention services or a hybrid method. Understanding what a virtual home visit is, the benefits of virtual home visits, the challenges of the service delivery model, and understanding related research and best practices will only strengthen your services.
One such virtual training, Exploring Virtual Home Visiting, is taught by DeEtte Snyder, Cathy Smyth, and Nana Phangia Dewald, professionals in the Early Childhood space with decades of experience. DeEtte Snyder, PhD is the Associate Director of Outreach, Birth to 5, at the Washington State School for the Blind. Hong "Nana" Phangia Dewald, PhD is an O&M Specialist at the Utah School for the Deaf and Blind. Cathy Smyth, PhD is the Director of Research at the Anchor Center for the Blind Children.
Accessing "Exploring Virtual Home Visiting"
Parents and professionals can easily access this offering by going to The APH Hive at Home – APH Hive and clicking "Sign In" (Register if you aren't signed up). Go to "Course Catalog", "Early Childhood", and click "Enroll for Exploring Virtual Home Visiting". You will enter additional information, click "Submit", and then "View Course". Under "Resources," you will find handouts that you can print out to share with your providers or take notes on, and you will find links to additional resources and information. This training offers ACVREP credits for those who need to renew their licenses.
The APH Hive also covers many other resources and topics. Be sure to explore additional courses such as LEGO Braille Bricks Play-Based Teaching Method and Developing Self-Awareness.
Learn more: