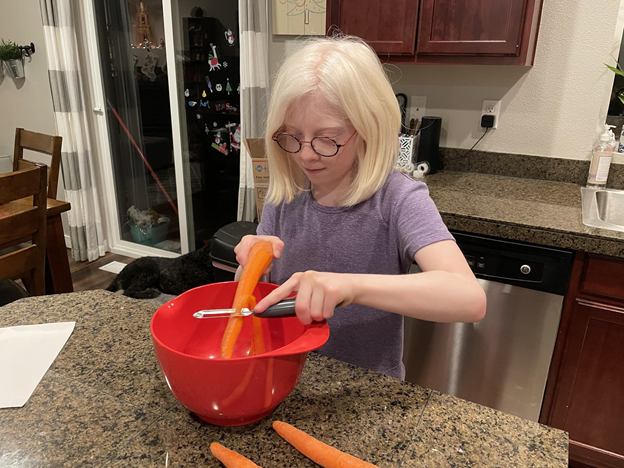 Editor's note: This blog post was written by daughter-mother team, Kait and Meghan Stott, who were featured in the previous blog, Mother and Daughter Share a Love of Cooking and Holiday Traditions.
Cooking, making meals for loved ones and friends, is a huge tradition in our family and something I have been sharing with my daughter, Kaitlin. I know plenty of adults with visual impairments who cook and manage their own households, so I knew Kaitlin's visual impairment did not need to be a barrier to her in the kitchen. I've also learned that her vision needs called for some adaptations, some new kitchen tools, lots of explanations and guided practice, patience, trust, and sometimes a bit of additional creativity. Kaitlin has been cooking with me, and now on her own, for quite a few years and it shows in her confidence using kitchen tools and willingness to try new things. You can learn more about our experiences in the kitchen at Kids In the Kitchen and a past Family Connect blog post.
We have definitely taught skills along the way, but there are many parts of the recipe below that even kids new to the kitchen will be able to do independently. You know your child's needs best; so look for those opportunities based on your child's age, vision needs, experience with kitchen tools, and accessibility needs due to other disabilities. Kaitlin's love of cooking gives us a shared activity, has expanded her willingness to try new foods, and is empowering her on a path to be able to prepare her own healthy meals for her own family and friends when she is an adult.
When Kaitlin was about four years old, one of the very first meals Kaitlin and I cooked together was Veggie Spaghetti. Veggie Spaghetti was a meal inspired by an episode of Daniel Tiger's Neighborhood. After watching the episode, Kaitlin was determined to make the spaghetti sauce herself. A win-win because I was excited to get more veggies in her diet, and teach her to cook. This meal is fun to make with kids of all ages and all abilities. Kaitlin loves creating her own versions of our favorite recipes and this version is one of her adaptations and was a big hit with our family. We hope you and your family enjoy cooking and sharing this recipe as much as we do.
Veggie Spaghetti Recipe
Veggie Spaghetti is fun because the ingredients can be tweaked to include whatever vegetables you have in your fridge. We often cook this meal at the end of the week when we need to use up the week's worth of vegetables.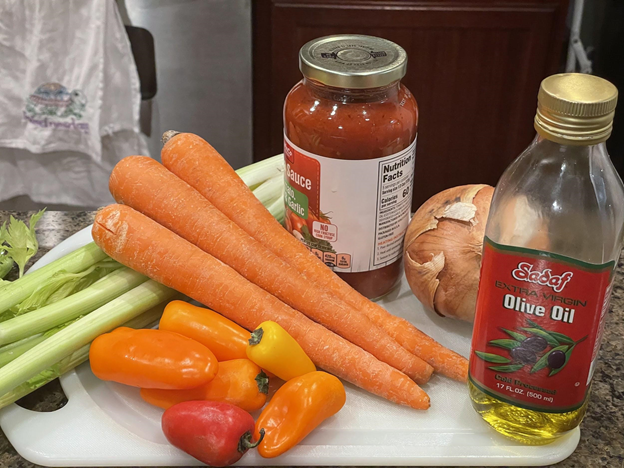 Ingredients
2 Tbsp Olive Oil
½ White Onion
3 carrots
3 celery stalks
5-6 Mini Peppers
24oz Pasta Sauce- any brand
Spaghetti Noodles
Cutting Board
Sharp Knife or *child safety knife
Vegetable Peeler
*Food Processor or Food Chopper
5 quart Pot
Kitchen timer
Large print or tactile adapted measuring spoons and measuring cups
*These tools are what makes cooking accessible for kids of all ages and abilities. You can also ask your child's vision teacher for suggestions or support adapting tools you already have in your home. When Kaitlin was too little to use a knife, the food chopper or food processor allowed her to quickly feel success in meal preps without worrying about cutting her fingers in the process. We used a Pampered Chef food chopper, but you can easily use a food processor to pulse the vegetables until your vegetables are finely chopped.
Assembly Process:
Peel Carrots and onion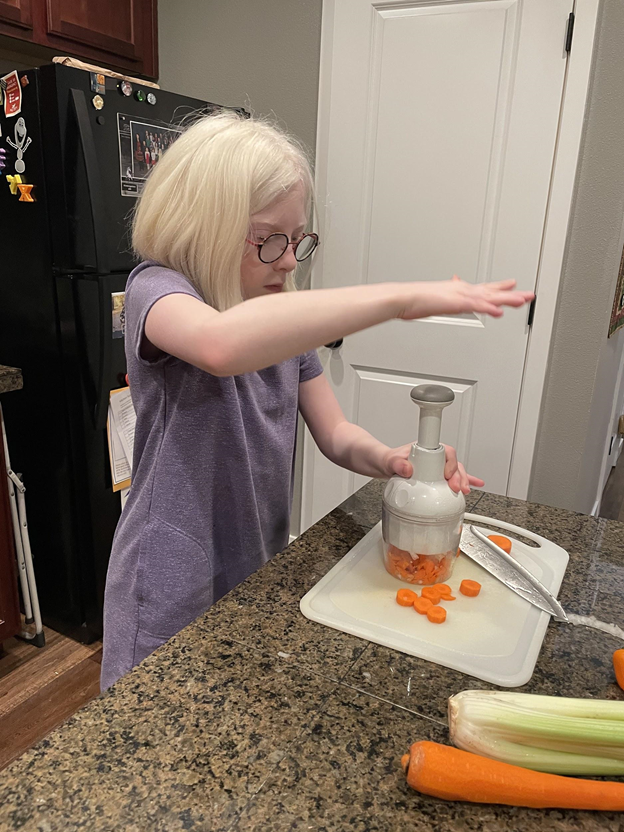 Chop Peeled onion
Heat 2 Tbsp of Olive Oil in 5 quart Pot in Medium-High heat
Add onions and saute
While onions are cooking chop your other vegetables and add to the onions as you go.
If the vegetables are cooking too quickly (meaning they are browning before you can add all of your vegetables), feel free to reduce the heat and/or add a couple of TBS of water to keep the vegetables from getting too dark. The idea is to saute the vegetables, not roast the vegetables.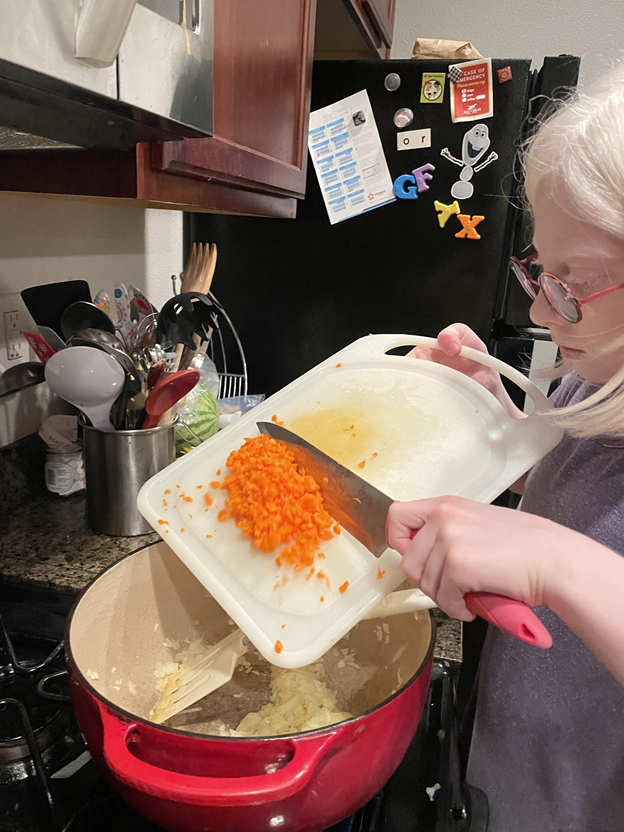 After all the vegetables have been added, open your jar of Pasta sauce and add it to the pot.
Stir and Cover the pot, cooking over medium/low heat for at least 30 minutes. This sauce can also simmer on the stove for several hours- which just makes the sauce taste better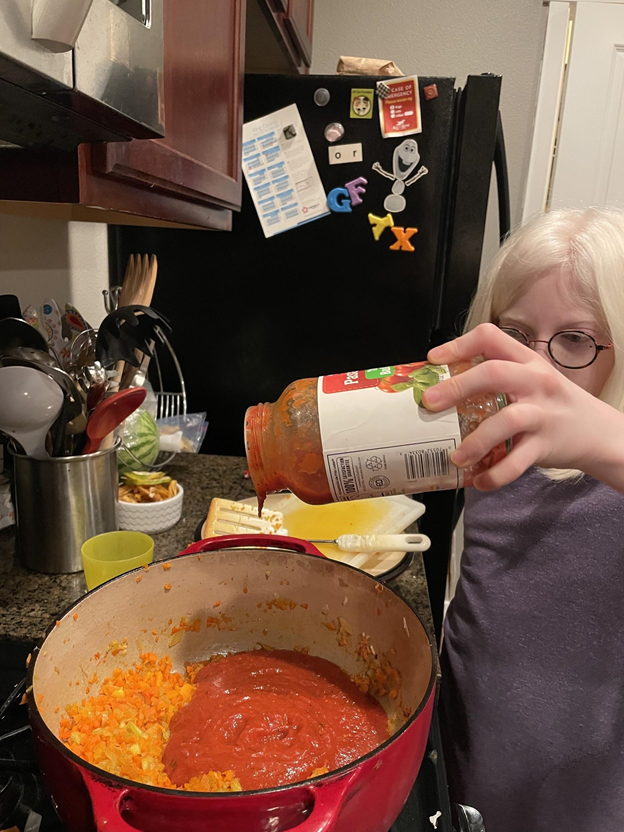 Stir sauce occasionally and make sure that the sauce is not cooking too fast. Feel free to add a couple tablespoons of water if the sauce is cooking down too fast
While Sauce simmers, boil a separate pot of water for the noodles and follow cooking directions on the pasta package.
Serve Sauce over noodles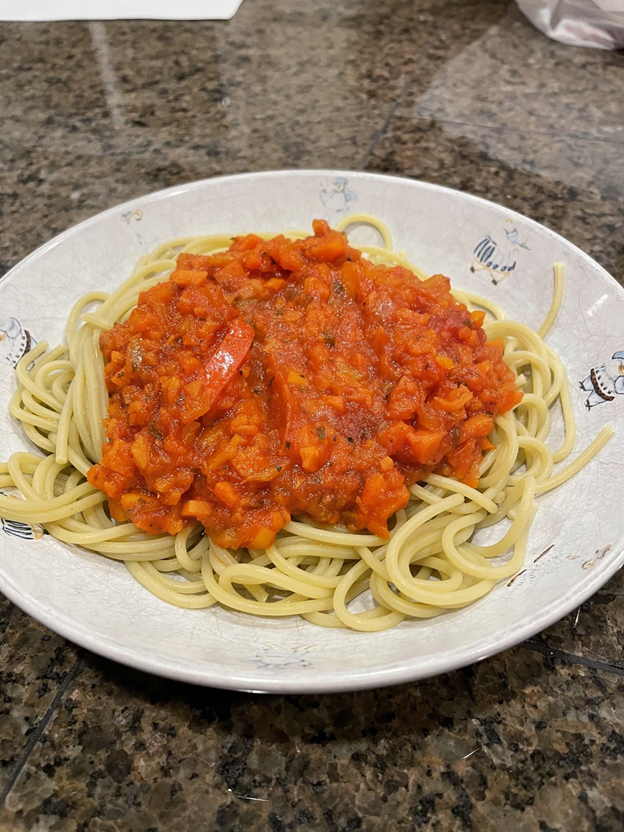 Alternative cooking methods:
CrockPot: add all ingredients to a crockpot and cook on low for 6-8 hours. Stir and serve over cooked pasta noodles
Instant Pot: Saute the onions in olive oil using the saute button. Once onions are sauteed, switch to off and add the remaining ingredients. Lock the lid and cook on high pressure for 8 minutes. When the timer goes off, the sauce can either be slow or quick released. Stir and serve over pasta.
Resources for Adapted Kitchen Tools
Adapted Cooking tools:
Are available online at many websites.
Knives:
Googling "Children's Safe Cooking Knives" brought up a recent (updated in 2017) article "Safe, Kid-Friendly Knives that Actually Cut. Scroll to the bottom of the page for a list of safety knives.
"The 9 Best Food Choppers of 2020" has a list of options starting at $10.