Editor's Note: We welcome this post and project from Wonderbaby which is one of our favorite sites. Please participate as we would all love to see pictures of your darling child with their cane!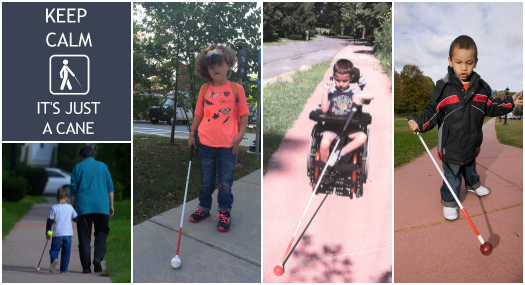 ---
We all have favorite holidays. I've always loved Easter with its spring crafts and Easter egg hunts, but of course nothing can really compare to Christmas! My son, Ivan, on the other hand, has the most fun on Halloween when he gets to dress up and visit all our neighbors to ask for candy.
But ever since Ivan was diagnosed blind over 10 years ago, there's a new holiday that warms my heart: White Cane Day. White Cane Day is a day to raise awareness about cane safety and the needs of the blind community. It's often a day for white cane marches on state capitols where activists voice their concerns over lack of services or resources.
And that is all very good and necessary, but as a parent, to me White Cane Day is really about PRIDE. I'm proud of everything Ivan has accomplished in the last 10 years and I'm proud of all the children around the world who pick up their canes and work on their mobility skills with their O&M instructors. I'm proud of all the parents who fight for their kids and help them feel included at home, in school and in the community.
So on White Cane Day I like to ask other families to show off their pride by sharing pictures of their kids with their canes! Let's flood Facebook and Twitter with lots and lots of adorable photos of young kids with their canes and precanes, walking, standing or even using their canes in their wheelchairs! All of our kids work so hard… they need a little recognition, don't you think?
Come share your photos on Thursday, October 15th on the WonderBaby Facebook page or Tweet your pics on Twitter! Be sure to use the hashtags #WhiteCaneDay or #BlindKidsCan.
You can also check out our Positive Images of Blindness board on Pinterest and let me know if you want an invite to share to the board!