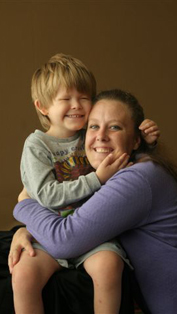 Lately I've been talking to my mom every few days. I just love when she calls to check in on me (okay, check in on her granddaughters!). It's soothing to hear her voice; it's comforting to know she cares; and it's helpful to get her advice on…everything! I love my mom.
Yet I have a head full of memories reminding me I didn't fully comprehend or express my love for her as a child. I didn't adequately appreciate the years and years of her drying my tears, mending me back to health, preparing meal after meal after meal, watching my (lack of) softball skills, "managing" my attitude, and scrubbing the floors. I also definitely didn't praise and thank her for the boundaries she and my dad gave. Things like "You're not wearing that", "You're not going there", and "You must perform your chores beforehand" weren't well received all those years ago.
But now I see it. The picture is getting clear and it's overwhelming. She loved fiercely. How she served, how she cared, how she taught, and how she protected; it was love. Laying yourself down love. (Okay, I'm fighting the tears now.)
As a mother, we're often exhausted and those we serve, care for, teach, and protect aren't to the point of "seeing" the effort and the time and the boundaries as love. They can't fully appreciate it. Not yet.
But our children will grow. They may then see it. This is what I think your adult son or daughter will want to say to you:
"Thank you for loving me, even when I didn't make it easy."
"Thank you for loving me, even when it meant saying 'No' and upsetting me."
"Thank you for loving me by advocating for my needs."
"Thank you for pushing me to try new things."
"Thank you for coaching my social skills."
"Thank you for believing I could do it."
"Thank you for teaching me how to do the adult things."
"Thank you for learning about blindness or a visual impairment, but not letting it define me."
"Thank you for giving me those opportunities."
"Thank you for recognizing my strengths and telling me what they are."
"Thank you for teaching me to respect others."
"Thank you for letting me play and create."
"Thank you for having fun with me."
"Thank you for accepting me and loving me as I am."
I think you will hear, "Happy Mother's Day! I love you. Thank you for loving me through it all."
Here's what I mean: read A Son's Tribute to His Mother.
But for today, keep pressing on. You love fiercely and you're doing a wonderfully fine [imperfect, we're all imperfect] job.
*Dads and others, help your child thank Mom this Mother's Day by using our tips on making accessible, meaningful Mother's Day presents and our Mother's Day card and gift suggestions.
Do you have any encouragement for other mothers or stories of how your child made your day special? Please share in the comments.