Greetings to all. I am very pleased to introduce this month's expert who will write about a subject that I know is important to many families at this time of year. Emily Coleman is the mother of Eddie and is assisting us by sharing her expertise on the subject of play and toys.
With the holiday season upon us this topic is on the minds of many families. I invite you to not only read the blog but also to actively participate by adding what has worked for you. I would love to see examples of games that are accessible for children and teens. Ideas for homemade as well as purchased toys would be an excellent addition in these troubled economic times. If you would like us to post a picture of your favorite toy please email it to us at familyconnect@afb.net.
The FamilyConnect website has articles for families of infants and toddlers such as Choosing Toys and Creating a Play Area for Your Child and Teaching Your Baby to Play with Toys.
---

By Emily Coleman
Right before a birthday or the holidays, I wander through discount stores wondering what would be the perfect toy for my visually impaired son. Let me tell you, he is one kid that is hard to impress. Most toys keep his attention only long enough for him to throw them out of his way.
So, I keep my eyes open for toys he'd enjoy while I also try to pick the ones that serve a secret purpose. You may wonder how a toy could have a "secret purpose" but some of them do. The ones I look for are fun to play with and also meet educational or therapeutic goals, teach him what real-life objects are, or simply help him play with other kids.
Therapists and teachers love it when you buy a toy to meet one of their goals. When Eddie was an infant, or when he wasn't able to manipulate toys well, I purchased a lot of "cause and effect" toys. You know, you hit a button and it sings, or you shake it and it rattles, etc, etc. He loved those simple toys and quickly grasped the concept of "cause and effect."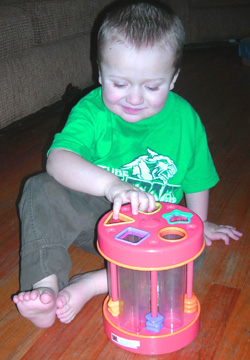 Now he is a toddler and although he likes the easy toys, I have higher expectations. So, I buy toys that do multiple things and that also motivate him to activate them. For example, he has a shape sorter that also has beads that rattle when you shake it, and when you drop the shapes in, they make a funny noise. So, there is a motivator for him to fit a shape into the right hole, because the funny noise makes him laugh. He is then having fun, learning shapes, and working on fine motor skills.
Finding educational toys isn't too hard, but finding "real-life" objects that he likes to play with can be tricky. My son loves music and therefore most of his toys have a musical component. I wanted to get him a toy instrument of some kind last Christmas and I looked at the toy keyboards. Like most toys, they have that "dinky" electronic toy sound that drives us crazy. So, instead I looked at real keyboards at the discount store. He is three, so I'm not going to buy him an expensive keyboard from the music shop, but for twenty dollars I could get him a keyboard with a good range of keys, buttons that played different beats, and a tonal quality that wouldn't make me cringe every time he played with it.
Another simple example of a "real-life" object is a book. He gets braille books for every holiday and although he doesn't read yet, he is still learning what books are and that they are important. While shopping, any time I can substitute a "real" object for a toy, I get the real thing.
My final "secret purpose" for a toy is to help my son gain social skills. Basically, he needs to have some of the same toys that all little boys do to interact with peers. One thing most boys like to do is play with cars and trucks. Well, they don't make much noise and my son can't see them zooming across the floor so he could care less about them. Therefore, I seek out vehicles that do more than just "zoom." I've found him a bus that sings when pushed, a dump truck with all the right sounds, and a train that sings and toots its horn. Sure enough, we recently had a sighted child his age over and they pushed those vehicles back and forth across the floor and both kids enjoyed it.
Other good toys that draw kids to my son are balls that make any noise; like jingling, beeps, or funny "dog toy" noises. Again, they'll roll it back and forth and because of the noise, my son can go after it too when it rolls away.
I have one more piece of advice when wrapping those toys this holiday season. Be sure to take them out of the packaging before you wrap them! Isn't it better to have the final result of all that unwrapping be a toy and not a package? It can take me quite a while to get toys out of the packaging these days so I don't want him waiting while I find the essentials to access the toy(i.e. scissors, screwdriver, jackhammer).
Finally, even though these "toy goals" are great to use, it is also fun to buy something just because your child will like it even if that is the only purpose it serves; so don't be afraid to do that either. We'd love to hear from parents with toy suggestions for kids of all ages. Please post your favorite toy and where you can find it or your favorite place to shop. Also, if you made a creative toy for your child, we'd love to know how you did it. I'm always looking for new ideas so please share your great insights with the rest of us.