Editor's note: Today's blog post is from Amanda Bowdoin, M.Ed., a certified teacher of the visually impaired in Texas. She earned her master's degree in visual impairment from Stephen F. Austin State University. Amanda is also a mother of twins, JD and Oliva, who are 11 years old. Her son JD has CHARGE Syndrome and is deaf-blind.
Using the Expanded Core Curriculum As a Safety Patrol
By Amanda Bowdoin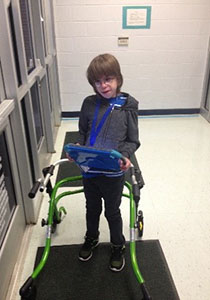 For my son, JD Bowdoin, a fifth grade young boy, it doesn't matter what level of education he has or doesn't have. It doesn't matter what his mode of communication may be. All that matters to JD is greeting all of the students at the beginning of the school day. Each morning he uses his walker, iPad communication device, and his sign language to welcome the students to school. With his educational plan in place and the support of the school and staff, JD is able to use his abilities.
JD was born with CHARGE Syndrome, a recognizable genetic syndrome. JD is deaf and visually impaired; he is considered deaf-blind. With assistive technology and support, he is able to have his educational needs met.
JD is using the expanded core curriculum (ECC) in school and outside of the school setting now that he is a Safety Patrol. Along with his twin sister and other students, JD's participation in the safety patrol program has allowed him to use some of the skills part of the ECC, including:
Compensatory or functional academic skills, including communication modes such as using sign language to say "good morning" to other students;
Orientation and mobility skills by using his walker to help him get around;
Social interaction skills by interacting with students as they are entering the school building;
Independent living skills by being independent and gaining leadership;
Use of assistive technology by implementing the devices he needs to communicate with others, such as the iPad;
Sensory efficiency skills by using his hearing aids and iPad for voice output to communicate with students and school staff.
Through experiences like this, JD will gain self-confidence, self-esteem, and self-determination.
Learn How You Can Implement ECC
Bringing the Expanded Core Curriculum Into Your Holidays with Your Blind or Visually Impaired Child
Advice on Sensory Efficiency Skills for Deaf-Blind Children