Editor's Note: Over the past several weeks, Amanda Bowdoin has shared stories about raising her son, JD, who is deaf-blind with CHARGE Syndrome. She showed us how anything is possible for JD and how he is bound by no limits. Today, she shares a special story about the birth of her twins, JD and Olivia. This is part one of a two-part series.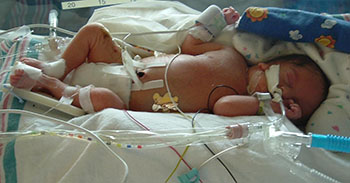 Understanding CHARGE Syndrome
CHARGE Syndrome is a rare disorder that arises during early fetal development and affects multiple organ systems. The CHARGE acronym comes from the first letters of some of the most common features that have been seen with this syndrome. Some children may have all or a few of the areas listed.
C: Coloboma (cleft or gap in some part of the eye)
H: Heart
A: Atresia of the Choanae (blockage of the nose)
R: Retardation of growth and development
G: Genital
E: Ear abnormalities and hearing loss
Facing Uncertainty: JD's Birth
My son JD was born with his twin sister, Olivia, at 31 weeks old. Olivia was only 2 pounds, 3 ounces and was born without vitals causing her to stay in the ICU for a month. JD was born weighing 1 pound, 13 ounces, but the doctors knew there were problems even a week before he was born.
JD had a hole in his esophageal (the tube that runs from the throat to the stomach) for which he needed a TE Fistula repair. During the surgery, we were told he also needed heart surgery. At that moment, I was still recovering from just giving birth, and I asked the doctor to explain what he was saying in English. "Basically, Mrs. Bowdoin, your son needs a new heart in order to live," the doctor said.
I was scared, so I researched everything I could to find out what was going on. The word CHARGE Association came up several times from doctors, and I had researched this two year's prior. I was so glad I had an understanding, but now what?
Next Steps for JD
I found support from the CHARGE Syndrome Family page, not just international, but in Texas as well. JD spent the first nine months of his life in the hospital before coming home to us. By this time, he had already had 25 surgeries and was still going strong.
About Your Child Living with CHARGE Syndrome
Understanding CHARGE Syndrome: Raising My Child Who Is Deaf-Blind
My Child Who Is Visually Impaired Is Bound By No Limits