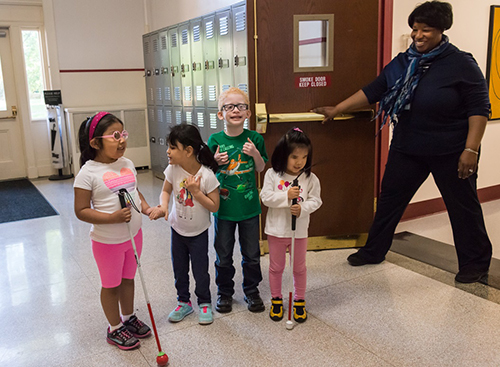 Well, it is fall again, my favorite time of year. It's harvest, the weather is good, and finally the temperatures are where I like them. With fall season, begins the school year, another transition. And like fall, not always predictable. Change is inevitable, but not always easy and sometimes decisions have to be made.
Evaluation from Perkins School for the Blind
I've always wanted an evaluation for Vinnie at Perkins School for the Blind in Massachusetts. Perkins is 250 miles from our home and three states away. We've been there twice over five years ago for workshops for parents. It is a beautiful campus with state-of-the-art resources and programs for visually impaired and blind children and adults.
With a contact that I made through the American Foundation for the Blind, I was able to procure funding for this assessment. We homeschool, so there was no asking the school to pay for this. Oh, we could fight for it, but so not worth the aggravation and stress. The services for the blind in Maine do not pay for this. Maine Medicaid does not pay for this. However, the Trinity Rose Foundation was gracious enough to grant us funding to provide this assessment.
There is quite a lot required to request an assessment. Because we homeschool, I am the keeper of the records. I do a fair job. Perkins requires an extensive checklist of records before they will consider doing an assessment. I rounded up and copied, collated, and organized a notebook with the requested materials. I made an extra copy, an exact duplicate for me. Things sometimes get lost and that's a lot of work to have misplaced or lost in the mail. Then I had to decide what exactly I wanted Perkins staff to look at and provide feedback. All this took me the month of August to find, copy, and organize. But I did and it is now at Perkins. I'll update you when we go.
Getting New Glasses
I bought recreational glasses in the past at Walmart, about 120 dollars, because Medicaid would not pay for them. In talking with Vinnie's ophthalmologist, he thought we could get glasses through Medicaid, but it might take a while. The first pair was the flexible plastic glasses they give to toddlers with a strap on the back. No way was he going to wear those. He hated them. But you can only get one pair a year, another if broken.
So why does Vinnie need glasses if he is blind? It is protective eyewear. Vinnie has light perception at five o'clock in his left eye, but the pupil is unresponsive. There is no way to regulate the amount of light in his eye. This can be painful on sunny days and with glare off the snow. So in addition to protective lenses, we need transitions. We've used a variety of dollar store glasses in the past. Vinnie thinks he looks cool! However, they are not safe, but they are cheap to lose if you go to the beach.
Anyway, after three months, numerous letters, frustration of my husband (this was his baby), we were notified that the glasses are approved. This is a whole story in itself! The glasses have not arrived yet. We are waiting.
Struggles with Orientation and Mobility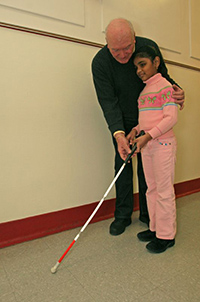 The most recent transition was a bust. Our orientation and mobility specialist left in June, giving three months' notice. We started right away requesting a transition with the new person to be assigned. Maine is a large rural state, so there are not many spare mobility instructors and in most cases not enough for adequate services. The Division for the Blind and Visually Impaired (DBVI) is the agency that provides orientation and mobility services in Maine. We were finally offered an instructor from another region, who made a brief visit in June, but not with the previous worker.
The new orientation and mobility instructor scheduled a visit (after I contacted her via email) and it was then that we found out it was going to be once a month. So I wrote and lobbied for priority, because my son is completely blind. I got no response. Anyway, the instructor came this week. She immediately asked me to allow her to communicate with Vinnie, so I backed away and observed. Then I decided to intervene when she was talking down to Vinnie like a small child. Vinnie has issues with expressive language, but normal receptive language and is quite capable of following directions. After she showed Vinnie his back door step, that was it. She needed to understand what Vinnie knows and what he doesn't know. I asked if she knew Vinnie's cue words for using his cane. I told her I wanted Vinnie to continue working on quarter-point turns and following verbal directional cues, i.e. in front of you, to the left, etc. She proceeded to tell me she would do her own assessment. When I asked what assessment, she asked why I needed to know.
Just a thought, but why would I need to know? Well, because I am entitled to know what assessments are done, know what it will tell, recommendations that will come out of the assessment, and give consent. I think you can probably realize from my description that communication wasn't going very well. We parted company. For me, what a relief. I hate having my child talked down to. Worse than that is having someone not tell me what they are doing or listening when I have valuable information. This person was temporary at best, once a month which is not very effective, and new to us. I did follow up with a letter to DBVI letting them know my concerns, some of them yet again. Will I hear back?
Adjusting to New Transitions
So that last transition with orientation and mobility (O&M) didn't work out. No biggy, as home schoolers we are resourceful. I will take over the training of Vinnie in the community/business setting, similar to what the last mobility instructor did until we have a full-time person. I was going to have to anyway, with a once a month services. It is like my husband (a former music teacher) says, "Piano lessons without practice don't equal piano players." Same goes for O&M. Communication is key to effective services.
As I've said before, "No services are better than bad services!"
We are back in the routine and swing of the school year, working on BOP curriculum. Our teacher of the visually impaired is back two days a week. Review is over and we are moving forward. We are looking forward to the Perkins Assessment.