Editorial Note: In honor of National Braille Literacy Month, we asked guest blogger Michael Cavanaugh, a dad who lives in Seattle, Washington, to write about what braille has meant to him.
---
Getting the Diagnosis
Life was turned upside down for me in 1993 when I learned my newborn son was blind. The doctors originally thought he had congenital cataracts and recommended immediate surgery. On the day of surgery, after what seemed like an eternity, the surgeon said the operation revealed Norrie's Disease and there was no chance of restoring any sight. My capsized life started to sink.
My pediatrician assured me that she would contact someone who could alleviate my fears, and called the Washington Department of Services for the Blind (DSB). Within a few days, Scott Truax was at my door. He told my wife and I to hang onto our dreams. Our son could still grow up to be anything he wanted. He also invited us to DSB's Preschool Conference the following spring. The keynote speaker was someone not to be missed.
Learning a New Way to Communicate, and a New Career
The words that touched me so deeply during that conference were those about the importance of learning braille. Not only for my son—he had no choice—but also for me. It would allow me an additional way to communicate with my son. After all, when he grew up, I couldn't very well leave a printed note on the table telling him I was at the grocery store.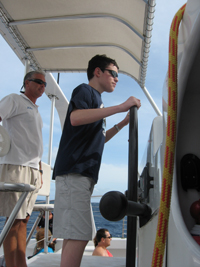 So, after eight years of adjusting life around a blind child, I went back to school, so to speak. The Washington Talking Book & Braille Library in downtown Seattle was offering classes in Literary Braille. After years of transcribing for the library to hone my transcribing skill, I submitted my 35-page braille manuscript to the Library of Congress to become an "official" Literary Braille Transcriptionist.
I have worked in the public school system as a transcriber and always prided myself on helping to make a level playing field for the visually impaired. The best part of a transcriber's job, for me at least, is getting to use my creative skills making tactile graphs or objects. Explaining something to a visually impaired person only goes so far. To create something that they can touch, feel and explore…it gives me great satisfaction, and them better understanding.
Currently I volunteer for the WTBBL library and would like to get back into the public school system or private sector to utilize more of my braille skills.
My son? He's attending community college studying to become a desktop support person. He's quite technically inclined and really wants to get into broadcasting. His knowledge of the radio market spans the entire country and astounds me.