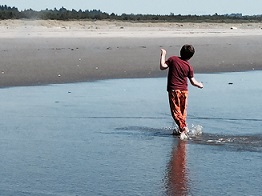 It is another hot summer day in August and we will soon be rolling out information for all of you heading back to school. Today we will Throwback Thursday to a blog written by Emily Coleman last year that was popular. Emily writes of Eddie's becoming an Emerging Risk-Taker.
We will be publishing our FamilyConnect Newsletter this month. Be sure to sign up to receive information directly in your email. On that page you may also sign up to follow one of the many newsletters published by various AFB programs. In fact if you haven't registered with us yet, now is a great time to do so. You may also sign up to receive email alerts to easily follow your favorite blogs or message boards. You can choose for alerts to be sent daily, weekly, or in a monthly digest.
Enjoy these summer moments together as all too soon the "race" for the school day will be with us.