When you have a child who is blind, you don't always receive homemade gifts from school that were made entirely by your children. It's difficult for teachers and classroom assistants to let a child have total control over an art project. Therefore, we often receive projects that were done with significant support, which can honestly be disheartening to receive.
My favorite art projects that come home are the ones that appear to be done entirely by my son. He has very little interest in crafts, isn't inclined to spend a lot of time with art supplies, and cannot physically see the end product if it's 2-dimensional. Therefore, I expect it's a challenge to engage him in a project for any length of time.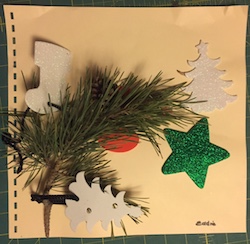 This month, we've been thrilled to receive art from school shown in this picture. His teacher of the visually impaired reported that he loved the hole-punch and was really interested in the actual evergreen branches. Therefore, with the help of a simple sheet of braille paper, some tree branches, holiday stickers, and a hole-punch…he created his own masterpiece.
When Eddie brought this home, I was thrilled to discuss it with him. We talked about the shape of the stickers, and then compared the evergreen branch to the Christmas tree residing in our living room. He helped me hang it on the fridge and could tactually explore the project whenever he wanted.
The best part was that they recreated the project a second time. His teacher explained that she likes to do the same art projects with kids multiple times…especially when they enjoy it. Eddie is often rushed through activities, which may not have a lot of meaning for him. I really appreciate time being taken to create, and recreate, something fun. What may be seen as imperfection to others is absolute perfection to us.
Holiday Crafts with Your Child Who Is Blind or Visually Impaired
Sensory Efficiency for the Holidays
10 Sensory Christmas Activities for Children Who Are Blind from WonderBaby.org